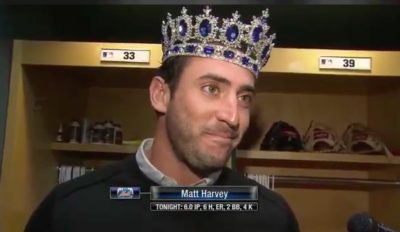 Now that the Matt Harvey era is behind us, it's time to evaluate The Dark Knight's career with the Mets and where he fits in with other way over-hyped players.
If we were to put together a team, would Matt start? Would he even make the starting rotation?  Putting together this team I had one rule: the player either had to start his major league career with the Mets, or he had to have been a top prospect in the Mets organization that never really made it anywhere (cups of coffee are ok).
First Base – Ike Davis
Upside down catches, cowboy hats, and Valley Fever
Second Base – Gregg Jefferies
Jeffries was supposed to lead Dynasty 2.0 (not that 1.0 ever really got off the ground)
Shortstop – Kaz Matsui
This guy from Japan is so good, we're going to move the best shortstop the franchise ever had over to second for him…..
Third Base – Ty Wigginton
OK, admittedly this one was a stretch.  I could not find an over-hyped third baseman.  (The closest was Jim Fregosi but that violates the primary rule)
Catcher – Travis d'Arnaud
This one was tough as I like Travis.  But when you are traded for a Cy Young winner (twice in his case) and are billed as the answer to all catching issues, if you don't perform – injuries or not – you have been over-hyped
Outfield:
Lee Mazzilli
Shannon will kill me on this one, but if you were around in the late 70's you have got to remember how much Lee was publicized as the new face of the Mets. Was it really justified? No – but the team had nothing else.  So over-hyped yes – but understandably so
Lastings Milledge
When you've got your own bobblehead before you make it to the majors, you better perform.  He's remembered for hive-fiving the fans (which I loved BTW)
Shawn Abner
Strawberry, Gooden, and Abner!  Um who?  He was supposed to be the next top draft choice to change the Mets
Starting Pitchers:
Bill Pulsipher & Paul Wilson
Two-thirds of Generation K.  Isringhausen actually had a good career so he is spared
Tim Leary
The first next Seaver.  Leary had wicked stuff in the minors.  April 12, 1981 on a 46 degree day in Chicago he pitched just 2 innings and was done.
Scott Kazmir
He has carved out an ok career, but at the start he was supposed to be the future ace
Matt Harvey
And so yes, TDK makes at least this starting rotation.
(BTW can we dispense with "The Dark Knight" moniker now?  In the end he was more of a Tan Squire than a Dark Knight)
Manager
Jeff Torborg
Coming off 2 winning seasons in Chicago, Torborg was brought in to manage the 92 Mets back to contention. The less said about that team the better.
So that's it.  I didn't do a bullpen because who cares about that.  Are there some guys left off?  Yeah – Jason Tyner, Billy Beane to name 2. You could even make a case that Matz belongs on the list. Is there anyone you'd start over these guys? Let me know on Facebook