Here's my take on the ticket plans. This is a really long post, so I just have the excerpt on the main page, click through to see the rest.  This post contains lots of opinions, my math may be terrible and I may be making some incorrect assumptions.  Nothing would make me happier than for you guys to tell me I added wrong or can't read a chart.
My takeaway is that even though Dave gave me the plan I wanted (an option to have all Saturdays), my 2-tickets plan (who goes to games alone?) got a lot more expensive. And it is possible that I won't have "my" seats.  20 game plans have guaranteed same seats whereas the 15 "make your own" don't.  To be fair, it is possible my ticket rep could hook that up.
Plenty here if you want to keep reading, including a walk through my math.
First we have the 20 game plans.
20-GAME PLAN HOLDER BENEFITS INCLUDE:
Savings off of established box office pricing
Best seats in the ballpark in each seating category behind Full Season and 40-Game Plan Holders
Same seat location for every game in your plan
Access to Promenade Club, regardless of seat location (additional club access dependent on seat location)
Personal Account Executive
10% discount at the Mets Team Store at Citi Field
Invitation to exclusive Plan and Pack Holder event
Monthly payment plan option
Online ticket management with "My Tickets", powered by Tickets.com
Ticket Exchange – Exchange your tickets for seats to future games
(select dates based on availability; three per season)
Ticket Donation Program – Donate your tickets to Most Valuable Kids
Ticket transfer through Mets.com
Ticket resale through StubHub
Opportunity to purchase postseason tickets prior to the general public
(same number of regular season seats, alternate location based on availability, one potential home game per series)
Presale access to Mets single game tickets and non-baseball events at Citi Field
Plan A: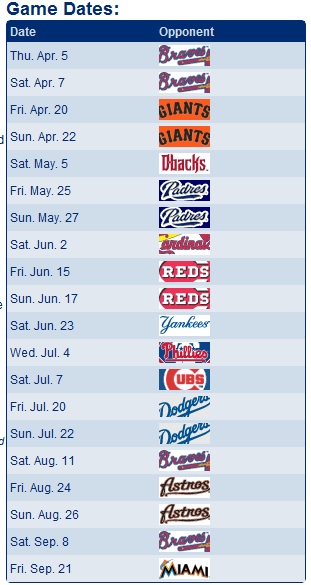 Plan B: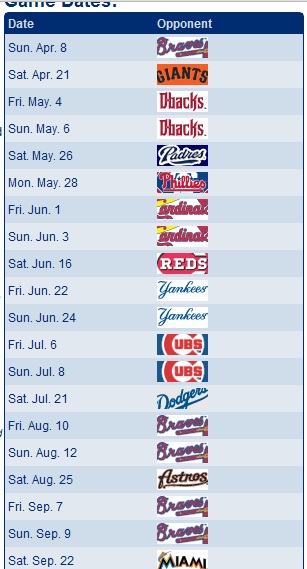 Plan C: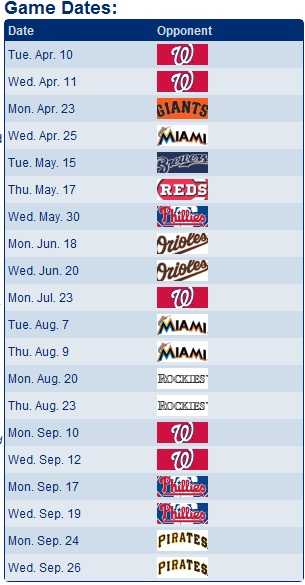 Plan D: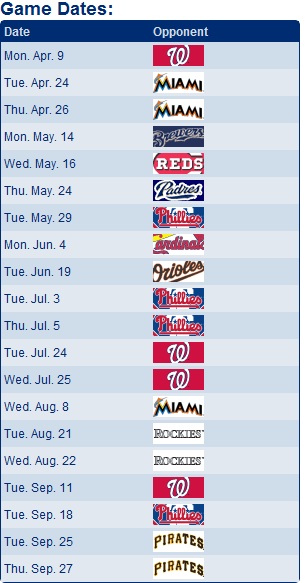 Pricing: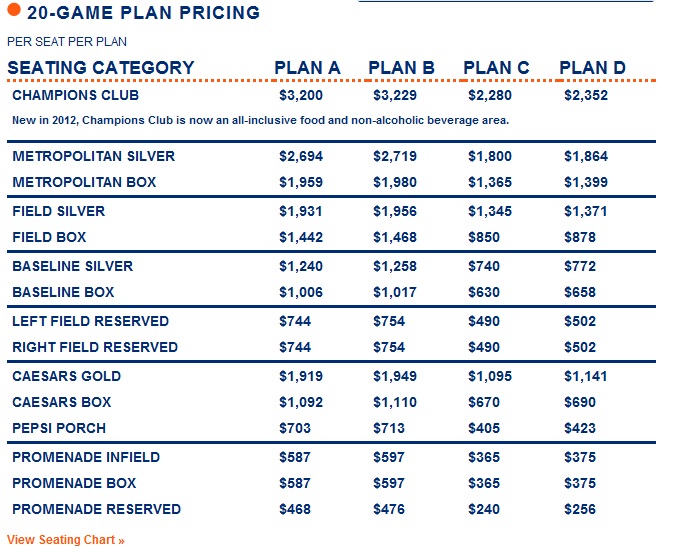 Commentary:
Plan B seems to be catching people's eyes because of the two Yankees games.  Part of that is the thought that you could sell those two games and off-set the others.
Media Goon has already declared he will buy a 20.  The Fri/Sat/Sun mix works well for his life.
For me, it doesn't.  Friday nights don't work for me and one of my kids, and on Sunday I am a hermit saving up my energy to struggle through another 5 days.  Saturday is playtime for me.
Fortunately the Mets offer…..oh wait…they don't offer a Saturday plan….or do they?   Let's take a look.
15 Game Plans
HOW TO BUILD YOUR 2012
15-GAME PACK
Choose one Marquee game  any 14 additional games
Choose a seating category
Use the pricing chart to determine the price per game based on your choices
Add these together
Subtract your 10% pack savings from the total – this is your overall price per seat!
Commentary:
So far so good.  Let's start building my plan.  I love Opening Day and hate the buffoons who show up at Subway Series, so I'll grab that one.  14 more to go…and no stupid weekday games that I don't want. Good start.
However, now it gets more confusing.   Remember how the Mets were going to simplify the pricing tiers?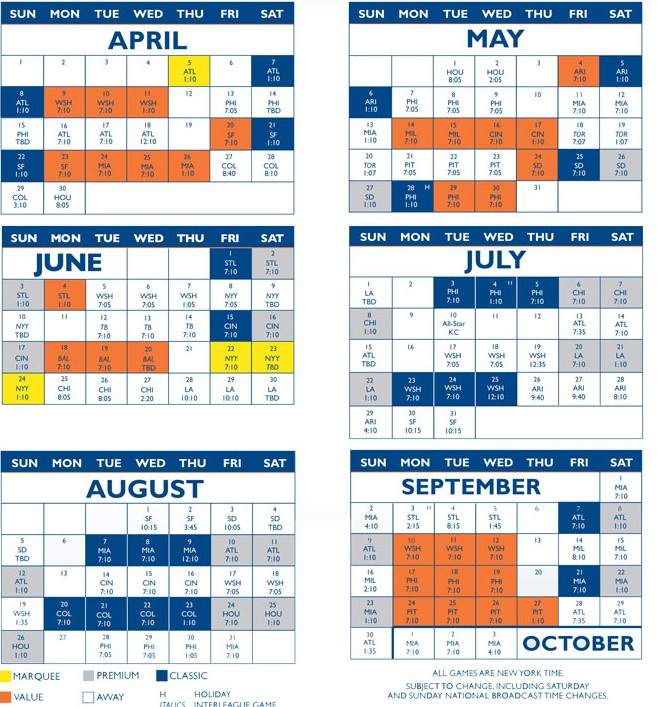 What catches my eye there is an awful lot of silver.  Uh oh.  Now let's look at prices.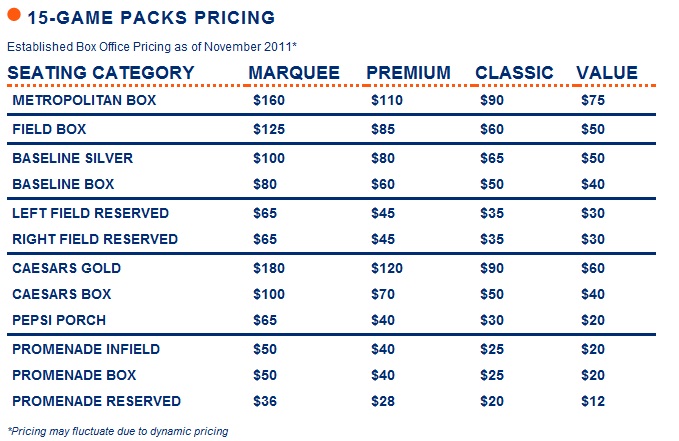 I like to sit in Promenade Infield.  At first glance I check the silver column and see $40.  Uh oh.  I am worried, but let's run the numbers before freaking out.
Let's build a Saturday (Plus Opening Day Plan).
Opening Day:  $50.    Ouch
2 April Saturdays:  $25×2 = $50
2 May Saturdays:  $25 and $40 = $65
2 June Saturdays but not the Yankees game:  $40 x 2 = $80.   Remember it was my choice to take the Opener not the Yankee game.
2 July Saturdays:  $40 x 2 = $80
2 August Saturdays:  $40 x 2 = $80
2 September Saturdays:  $40 x 2 = $80.  Do I even want these this year?
That's still only 13 games.  Let's pick two more…How about a midweek Orioles game in June for $25 and a midweek Phillies game Memorial Day week for $25.
Let's add that all up…I get $535.  Take off 10% (53.50) and you get $481.50.  Double that (I don't go to games alone) and my plan is $963.
In 2011 I paid:
2011 15-Game Saturday-Plus Plan Renewal Invoice - Pay In         790.00
Full By Dec 22, 2010                                                   

                                                             ==========
                                            Application Cost     790.00
                                                  Total Cost     790.00
VERY TROUBLESOME METS.  That's like almost $200.  That makes me think.
And with it being in my mind that tickets were going to be cheaper, that's a big jump.  And I am not even guaranteed "my" seats which I had hoped to keep forever and someday use at a playoff game.
I'm trying to remain calm hoping my ticket rep will have good news, but that $900+ number scares me.
It made me take a second look at Plan B…where 20 games would be $597 (or $1194 for two) vs the $963 I am looking at…but I don't want all those games.
Maybe I don't need a plan at all?
If I can't have "my" seats why should I bother?  For the 10% discount?  I can do that on my own by just not going to 2 games.  As it is I made up two weekday games.
Mocking the 10/5 plans
I'm trying to be fair here.  Let's throw back 3 of the silver Saturdays and pick three value games (I have already spent an hour on this post so lets pick any 3 value games).   Those are $28, so I save $12 three times…that's $36…times 2…$72.  $535-$72 = $463.  Take off 10% is 46.30 = $416.70.
Double that and I get $833.40.  That's still more.
Did I do that math right?
My verdict: the Mets were on their way to the right idea but missed.
I may still renew, but they pushed me from a slam dunk to thinking about it.  That is not a good thing for the Mets.
Here's the official press release:
METS INTRODUCE NEW TICKET PLANS AND PACKS FOR 2012
20-Game Plans Offer Weekend, Weekday Options;
15-Game Pack Provides Flexibility
Plans and Packs Go On Sale Monday, November 28 Online at Mets.com/2012,
By Phone at (718) 507-TIXX
FLUSHING, N.Y., November 15, 2011 – The New York Mets today introduced new Ticket Plans and Packs for the 2012 season, providing fans with more flexibility to choose their games, better seats in new locations and a variety of price points.  Plans and packs go on sale Monday, November 28 online at Mets.com/2012 and by phone at (718) 507-TIXX.
20-Game Plans
The Mets are offering four 20-Game Plans, two of which consist solely of Friday, Saturday and Sunday weekend games and select holidays.  The other two plans offer an assortment of weekday games.  The same seat is guaranteed for all games in each plan.
15-Game Pack
The new 15-Game Pack provides fans the flexibility to pick the games they want.   Fans can choose one marquee game – Opening Day, Thursday, April 5 or one of the Subway Series games June 22-24 at Citi Field – and then select the 14 remaining games from any on the schedule.   Seat locations may vary based on game selections.
Mets 20-Game Plan and 15-Game Pack Holders will receive a discount off the established box office price for their ticket packages.  They will also have enhanced benefits for 2012 including access to the Promenade Club regardless of seat location, and an invitation to an exclusive plan and pack holder event at Citi Field.
For more details on 20-Game Plans and 15-Game Packs including games, prices and benefits, visit Mets.com/2012.