Dave,
Let's bring back the Mule for the 50th.
I know that seems crazy off-hand but stay with me.
Folks are writing about the Mets anyway, much of it not good.
So bread and circuses.
What a wonderful diversion that the Mets are going to bring back Mettle the Mule (or presumably another mule in honor of Mettle, just like the Yankees had "Babe Ruth" at the Stadium II closing ceremony.)
The lifespan of a mule is 30-50 years.  Maybe Mettle is still out there somewhere.
Of course everyone will make fun of the Mets and you'll be teeing up everyone from Francesa to Letterman for jokes.  But they are making them anway.
So screw it.  Let go.  Have fun.  Part of being a Mets fan is appreciating all this.  I bet we'd both love 24 hours of mule jokes than financial talk.
You know the game.  Change the story.  Change it to Mettle.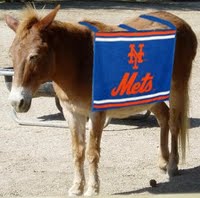 While we're chatting – have someone slip me the Banner Day date. You said late May/early June on Sunday.
May 27th vs Padres?  Memorial Day weekend.
June 3 vs Cardinals?  It's June 3rd isn't it?
June 17 vs Reds?  Father's Day?
beyond that it's not "early June".
Well I kept all three open.  See you there!