GRAY…It is a light gray but it seems like the Mets went with the road METS jersey from yesteryear.
The Mets pictures of the Rusty were a tad blown out so the color seemed to be white instead of gray. I compared it with this year's Tom Seaver bobble head to see the variation. I tried my best to get quality picture of the coloring. Kinda hard to do. But, It is gray…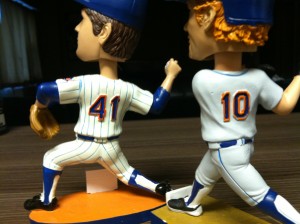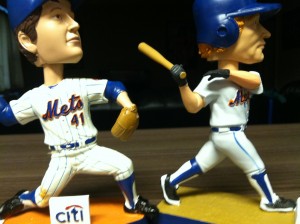 And one against white background….
….
Shannon here: man I bet the Mets had a nice giggle all week while we discussed the color of this bobble. I am truly stunned and amused that this actually was a road jersey.
I looked back at my posts and fortunately I wasn't too jerky on my chip busting posts. Memo to self: be Dickey not dicky.
Well played Mets. Well played.