Since we've been sitting on this for long enough and the clouds seem to suggest that this will be out there soon, here's what I have (all unofficially) about the 2013 uniforms.
As always I leave it to you to decide if you find the site reliable.
The Mets have previously declared an intention to have a blue jersey in 2013 similar to the Los Mets designs of either 2011 or 2012.
This week social media has been discussing there being two blue jerseys. Stand by on that for a second.
Over the summer I floated a mysterious post about hearing some things I liked and some I didn't. Well…
Before we get to that I want to plug my fundraiser. I'm running the NYC Marathon and I thought I'd try to raise a few bucks for an animal shelter. $5 goes a long way. Thanks and to read more or donate please read this. . Now about the things I like and those I don't….
I hear there will be six jerseys in 2013. Remain calm. Lets break that down.
1. Home pinstripes
2. Home pinless.
3. Traditional road jersey.
That was easy. Now we need three more and this is where the speculation really begins.
4. Blue – let's assume orange lettering and worn at home. Like the 2011 Los Mets. I suppose white lettering is a possibility as seen in the 2012 Los Mets. In my opinion those didn't "pop" as well as the orange letters.
The first here is the 2011 Los, the second is a fashion jersey owned by Media Goon but should give you the idea.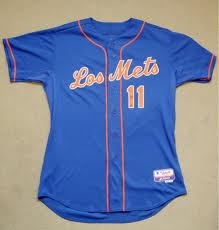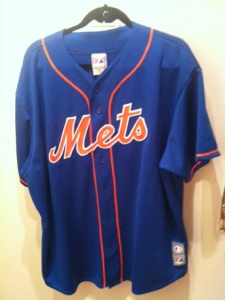 5. Blue – hopefully a road jersey with New York in orange.
However in the 80's the Mets briefly had blue jerseys with "Mets" in white. I suppose it's possible that these become the road jerseys for 2013, but since the Mets have gotten a lot better about brand consistency I will bet a dollar on the blue roads saying New York.
And that leads to the sixth jersey. Only one unfortunate solution comes to mind.
6. Throwback black Piazza era jersey worn on special occasions which will then cause the team to start playing poorly (see June 3, 2012).
There is talk of the uniforms being debuted November 14th. This is consistent with the behavior of the Mets going back to at least the year they announced the cream jerseys. This also suggests they will be retail-available on Black Friday which is also consistent with past behavior.
In 2012 we saw alternate 50th anniversary patches which were available only at Citi Field. It's safe to assume the 2013's will have ASG patches, but might we see Citi Field alternate patches? I have yet to see the image below pop up on anything other than Mets Police but I do believe it to be real. I have zero information that suggests that logo is for a patch but I thought it worth mentioning.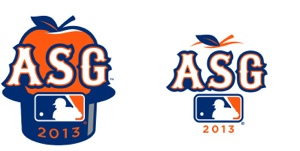 We shall know soon!
As for me, this is another "be careful what you wish for." I will be buying at least two new jerseys (both blue) so once again Dave gets the last laugh as I fork over another couple of hundred bucks. I am going to need to update my social media avatar (likely to a blue 13), and 13 is my default number on my "me" jerseys anyway. Oh this could've expensive.
I really enjoyed my "Mets Police 12" jersey which had some great outings including Banner Day. Speaking of which…..well I can't give you everything today can I? It's a long winter. Keep reading!
…..
An interesting new twist!