This is one of those posts where I will just share some random things and allow you to draw your own conclusions.
Let's begin with this article in Newsday.  (Cap-tip to @dickyoungsghost for showing me this).   Dave Howard is quoted…
Howard said he is "confident" the opener will be a sellout.

"Ticket sales have been strong," he said. "I think overall, both teams will do well. We both have significant fan bases and this is going to be a big game for us, as it will be for them. We're still confident that we'll be sold out."
Ticket sales have been strong.  Dave is confident that the Mets will be sold out.
So I decided to see if I could take 11 friends with me to Opening Day.  I asked Mets.com for 12 tickets.  My 11 friends and I all like to sit together.  Since I am cheap I asked for the lowest price ticket, this being $63 since the $39 tickets seem to no longer be available and $63 is a perfectly reasonable price to sit in the wings of the upper deck.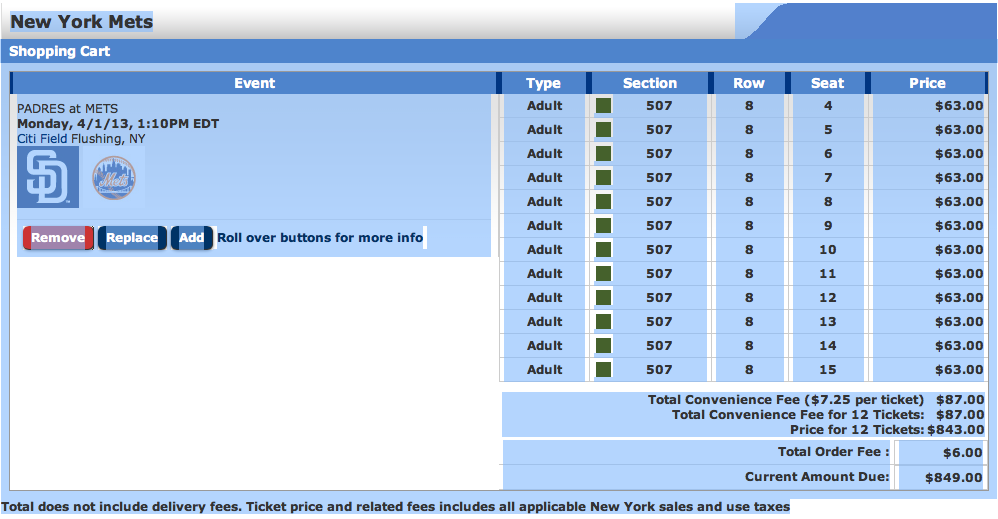 Well hey would you look at that. 12 together! In 507!
Well, maybe we should sit more behind home plate. Let's splurge and sit in Promenade Infield..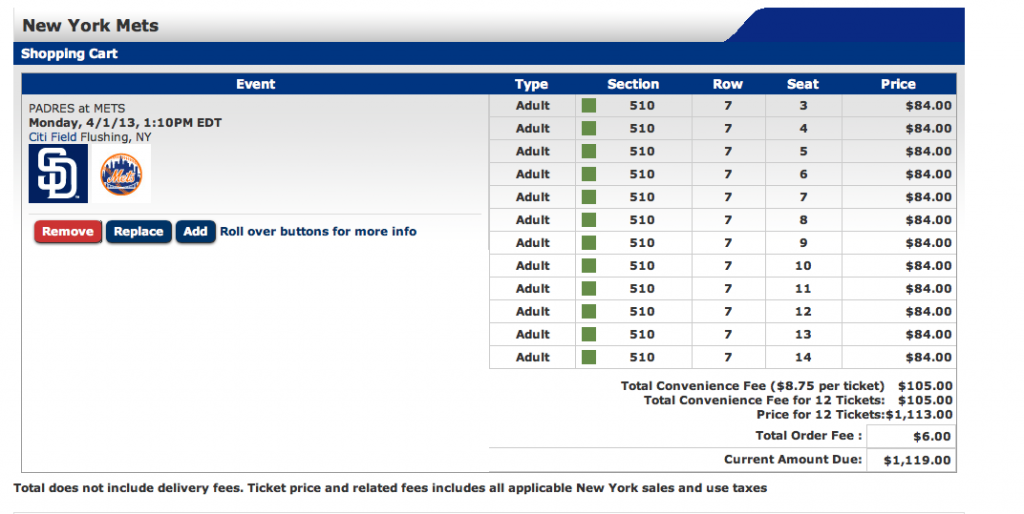 Not too shabby…the 12 of us can sit together in 510!  Maybe we should move down to the 400s!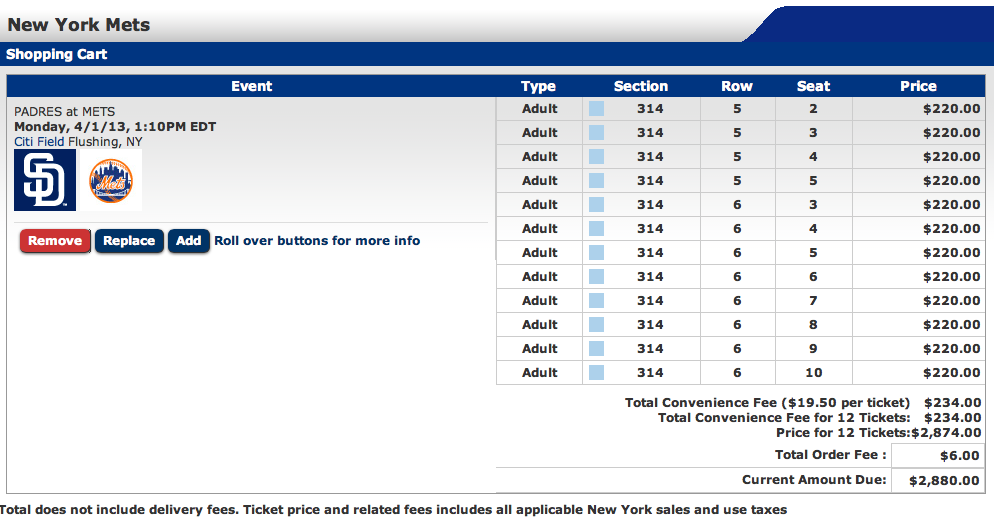 By the way I really appreciate that after spending $2800 including a $234 convenience fee and a $6 order fee that there is still a delivery fee (see pesky print at bottom).
Maybe we should really splurge…the 12 of us are going to sit downstairs!  The Metropolitan Box!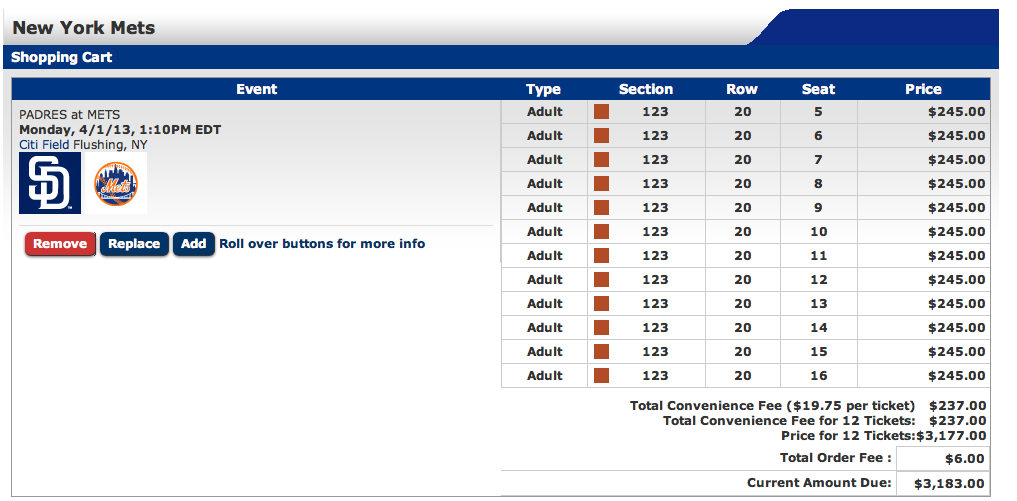 Absolutely fascinating.
I'm not sure what we have learned.  It's possible the Mets are just 48 seats short of an Opening Day sellout.  They have access to the sales figures and I don't.  Plus Dave says ticket sales have been strong and he is confident of a sellout.
I reached out to Howard Megdal about this, and he was well ahead of me.  He had already published…
So while single-game tickets for Opening Day for the Philadelphia Phillies are already sold out, despite an 81-win season, and while the Pittsburgh Pirates, fresh off of two decades of losing seasons, have already sold out Opening Day, the New York Mets have blocks of at least 12 tickets available together in every section on Opening Day but two.

I have no reason to question Howard's finding.   I'm just some dumb blogger who is eating an ice cream cone while typing.  What do I know?
But you guys are smart.  So I ask you – how do you think Opening Day ticket sales are going?
…..
On a related note, Albert was kind enough to do some research.  I didn't check his work, I'm a guy with an ice cream cone, but assuming he isn't some sort of maniacal liar out to punk Mets Police, he made a spreadsheet.
Albert included in his spreadsheet the $39 tickets the Mets sold.  I don't know how many the Mets sold but they apparently sold out of $39's.  Dave did say sales are strong.
Looking at the spreadsheet, I suppose the Cardinals Police are losing their bleeping minds, but that's their problem.
Does $20 really get me inside in Philly?  $22 in the Bronx?  $17.25 Canadian to see R.A. Dickey and Jose Reyes?  How could this be when other teams are charging numbers like $39 or $63?
I make no conclusions here.   I just ask you, do you think Mets Opening Day tickets are selling well, and if not, what do you think are the reasons?
…
I wrote an eBook called Send The Beer Guy: Mets Fan, Mets Vendor, Mets Police
.  $3.99 on Kindle and Kindle Apps.  If you can read this sentence then you have the technology needed to have a Kindle App.  I hope you'll check it out.
Book Description
Publication Date: February 17, 2013
A life-long Mets fan shares stories from the 2012 season, alternating with stories from his year in the stands, years as a vendor at Shea Stadum, and now as a blogger at MetsPolice.com. Mets fans who remember Tom Seaver, the 1986 Mets, the Subway Series or the Citi Field years will enjoy the fun read.