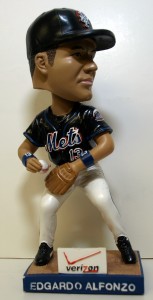 Since Shannon, Goon, and I have pretty much cleaned out our closets of Mets jerseys (at least for now, we all know there will be more later), I was thinking where can we go from here.  Easy answer – who doesn't love bobbleheads?
For the 50th in our series I had to go with the final 50th Anniversary Bobblehead – Edgardo Alfonzo.  Who didn't like Fonzie – and what a true team player.  Want me to go to third?  Sure.  Second?  Yup. Shortstop?  OK.
To those who have asked – yes, all of these are my bobbleheads (at least just the Mets related ones).  And I have them on display along shelves in my Mets-cave.  At some point I'll probably get or have a cabinet built to display them all.