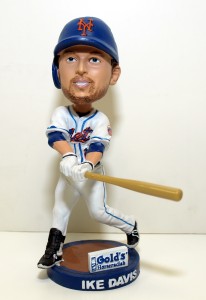 Since Shannon, Goon, and I have pretty much cleaned out our closets of Mets jerseys (at least for now, we all know there will be more later), I was thinking where can we go from here.  Easy answer – who doesn't love bobbleheads?
Another in the Gold's sponsored bobblehead series (supposedly there is a curse with these) – and Ike did contract Valley Fever after this was announced.
——–
We'll be wrapping up this series on Sunday – not because I've run out (Ha!), but with the regular season comes less fluff posts (we hope).  I've acquired a good number of these bobble on my own (at games, team stores, etc), but I would be remiss if I didn't mention Kevin Goodman who runs Mets Bobbleheads on Facebook.  Seven of the bobbles I have featured so far I purchased from Kevin (who himself has an impressive collection).  Check out his page.