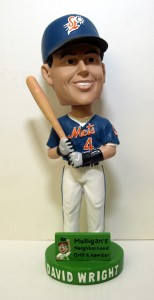 Since Shannon, Goon, and I have pretty much cleaned out our closets of Mets jerseys (at least for now, we all know there will be more later), I was thinking where can we go from here.  Easy answer – who doesn't love bobbleheads?
He's the Captain and he look s great wearing blue – ever since Single A.
————–
Opening Day is tomorrow so this will be the final bobblehead in part 1 of our series.  Look for part 2 to start up in October (yes, even after 53 I still have more).