There's a ton of buzz on this Saturday's Queens Baseball Convention so THANK YOU for the support!
I thought I'd walk you through the day as I see it.
Parking:  Yes, you can park at Citi Field.  Drive down 126th street.  There will be a lot open.  Tell the guy you are here for the McFadden's event.  Free parking.
Food:  McFadden's will have burgers and dogs type food for sale.
Doors open at noon.  There will be three lines – "I have tickets" "I need tickets" and VIP.
Right away we will do the Opening Ceremonies.  A quick hello and we will throw some ceremonial first pitches at the dunk tank.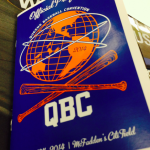 Our announcer Jeff Hysen will make announcements every half hour letting you know what's coming up.  You can also reference the snazzy program we will give you on the way in.
At 12 you can dunk-tank our old pal Ed (aka @lagranderusty), check out our vendors, stop by the Mets booth for a great ticket offer and raffle, see Sandy the Seagull, or attend the New Media Panel.
At 12:30, Cyclones GM Steve Cohen does a Q&A
At 1pm you can dump the kids off at Kids Trivia or Face Painting and go attend the Ron Darling Q&A.  Then go play The Feud at 1:30
Darling signs autographs at 2, and those are included in your admission.  We have an hour and should get to everyone.  One thing per person please so everyone gets a chance.
Also at 2, a presentation from Greg Prince on "Why Mets History", a kids drawing contest and at 2:15 the Make A Deal game.
At 3pm you have "too much" to do.  I will be hosting a panel with some Mets Executives. Ed Kranepool will be doing a Q&A. and Mr. Met will be making a one hour appearance!
Then at 4 it's Uni Watch Presents The Greatest Discussion Of Mets Uniforms Of All Time.  Now you guys know I love my uniforms…..there will be a mind-blowing Mets uniform surprise at this one.  Not even the Mets know about this.  You'll never ever guess.
Also during that hour, Kranepool signs autographs, and Jeopardy (that's two different events, although Ed Kranepool playing Jeopardy would be kind of awesome).
A quick Jersey Parade at 5pm (wear your coolest jersey!!!!).  Also at 5, Mark Simon from ESPN New York presents The Most Unusual Wins In Mets History.  At 5:30 the guys from RotoExperts.com do a session on the upcoming fantasy baseball season.  Also at 5:30, the Dating Game with some of the gals from The 7 Line calendar.
At 6 the Banner Parade (we will have poster board and markers for you – just make one and walk the length of the bar).
6:15 The Gil Hodges Award and at 6:30 my silly Mazzy Awards.
Then an after-party!
See you Saturday!  Don't miss this one, it's gonna be really really fun.