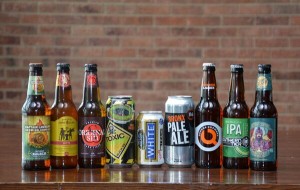 The Mets announced nine new beers that will be available at Citi Field this year at special Empire State Craft Beer stands on the field level near the LF gate exit by the ramps and in the Promenade food court. This is a pretty good selection that's hopefully augmenting and not replacing what we have already. Let's break it down:
Captain Lawrence Captain's Kölsch: This is a lighter and refreshing beer. It's a great beer for hot summer days and one that will be pleasing to just about everything.
Ommegang Witte: Cooperstown brewed already gives it a leg up. Belgian style ales aren't for everyone, but Ommegang makes some great beer and this is no exception.
Original Sin Hard Cider: Pretty basic contract-brewed cider. If cider is your thing, this one won't disappoint.
Blue Point Toxic Sludge: Black IPA originally brewed to benefit birds affected by BP's Gulf oil spill. Black IPA means it's a hoppy beer but with the roastier malts of a dark ale. It's the only dark ale that I know of at Citi Field right now.
Blue Point White IPA: I don't care for this one much because it reminded me a little of white tea mixed with IPA and I don't like white tea.
Bronx Pale Ale: This, and zoo animals, are the only interesting things happening in the Bronx. It's a very good pale ale and full in flavor if you can handle a little bitterness.
Queens Brewery Lager: I've never had this one, but I will. They brew upstate but are looking for space in Queens.
Southern Tier IPA: Haven't tried this one yet, but Southern Tier usually has a pretty high floor for quality beer.
Coney Island Seas The Day: An India Pale Lager, which means it's a clean crisp beer like a Pilsner but with all the hops of a pale ale. Coney Island may have originated this style, but this beer itself is new and the one I'm most interested in trying.