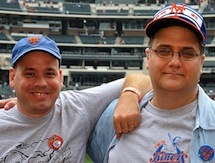 Hey a shout-out to the bloggers from the Daily News.  You can feel the love.
The team tries to accommodate pregame media requests from print, radio and television, and holds various events, including nights when fan bloggers receive credentials granting field and dugout access.

via It's not just the walls, it's the distractions — and NY Mets are working to simplify Citi Field; CC Sabathia news; Jay-Z associate and A-Rod; MLB power rankings – NY Daily News.
Yep.  Those bloggers standing on the grass while the Mets take BP anyway sure do drain David Wright's power.