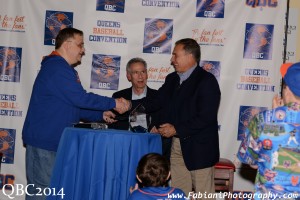 FOR IMMEDIATE RELEASE
QBC'S GIL HODGES UNFORGETTABLE FIRE AWARD TO BE PRESENTED TO 1969 LEGEND ED CHARLES
CONVENTION COMING TO McFADDEN'S CITI FIELD JANUARY 10, 2015
FLUSHING, N.Y. — The Queens Baseball Convention is proud to announce it will present The Gil Hodges Unforgettable Fire Award to Ed Charles, third baseman of the 1969 World Champion New York Mets, at the second annual QBC, coming to McFadden's Citi Field on Saturday, January 10, 2015.
The Gil Hodges Unforgettable Fire Award is presented each year by QBC to a special figure in our team's history, someone whose memory will always warm our hearts, brighten our spirits and light our way. In 2014, the first award was dedicated to Hodges himself and was accepted by his son, Gil Hodges, Jr., accompanied by 1969 Mets right fielder Art Shamsky.
QBC chose Charles as the 2015 recipient in recognition of a remarkable baseball life, one that has spanned decades and encompassed unmatched experiences. While he is best remembered as the Poet Laureate of the Miracle Mets, Charles's mark on the game dates back to his childhood in Florida, as portrayed in the movie 42. Inspired by Jackie Robinson, he persevered across ten years in the minor leagues, denied the break he deserved for too long. When called up at last to the majors at the age of 28, he excelled for the Kansas City Athletics, the team that ultimately traded him to the Mets in 1967.
As a Met who'd been playing professional baseball since 1952, "the Glider" made his most indelible contribution, helping to guide a mostly young team to the greatest heights the franchise had ever scaled. Beloved by teammates during and after that championship season, Charles maintained a presence in baseball following his retirement, serving the Mets as a scout and making dreams come true winter after winter at fantasy camps in Port St. Lucie. His appearances at Shea Stadium and Citi Field have always been greeted warmly, and for good reason.
"You can't imagine the Mets without 1969 and you can't imagine the 1969 Mets without Ed Charles," said Greg Prince, co-author of the blog Faith and Fear in Flushing and consulting historian to QBC. "What Gil Hodges meant to that team in the dugout, Ed meant to them on the field. He was someone to look up to, someone who knew how to lead and, ultimately, how to win."
Charles and Hodges, Jr., are both slated to take part in a special ceremony, capping off an exciting QBC day that will include appearances by Mookie Wilson and Wally Backman.
The goal of the Gil Hodges Unforgettable Fire Award, according to Prince, is to keep Gil's legacy aglow so even those who don't remember him first-hand "understand what it means to have somebody like that set our team on its path and realize that all the best elements of sportsmanship and humanity can come together in a Mets uniform and a Mets clubhouse. Gil's life in and out of baseball reminds us that some things and some people transcend mere championships — though let's not overlook that first championship, forever the signature achievement of this franchise."
Gil Hodges (1924-1972) was a standout major league first baseman beloved by fans of the Brooklyn Dodgers and New York Mets, the latter of whom he led to the championship of the baseball world in 1969.
The Queens Baseball Convention thanks the members of the Hodges family for their blessing of this award.
Tickets to QBC — a midwinter celebration of the national pastime and the team that calls Queens home — can be purchased at QueensBaseballConvention.com.
For media inquiries, contact [email protected]