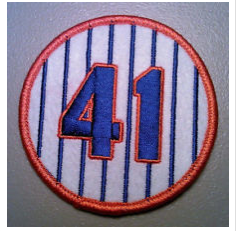 What's going on here? Is he pitching with a jacket on? Why is his cap so square?
1972 TOPPS BASEBALL TOM SEAVER METS HOF #445 EXMT NICE!! https://t.co/Cu9losopga pic.twitter.com/H0nTowemWV

— get dazzle deals (@getdazzledeals) July 11, 2016
Then again this would have been around the time Tom Seaver struck me out, so maybe it IS my dad's cap.