As we celebrate the 10th Anniversary of the Mets Police, I thought it would be fun to go back and dust off some "Unscheduled Draft" posts. Behind the scenes if you write a post and don't publish it, it saves as a draft. And there seem to be a ton of them. Some complete, some incomplete. Let's have a fun stroll through the blog Outtakes.
This one looks like it was written in April of 2013.
….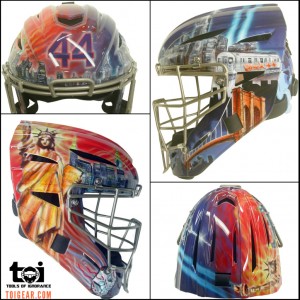 If you have been watching the Mets on TV you may have noticed that new catcher John Buck's helmet is very colorful.
It was produced by Tools Of Ignorance, designed by Voodoo Air, and features the Statue of Liberty, a #7 New York City subway train , and  Jay Payton's  #44.  Turns out he is the only catcher in Major League Baseball allowed to wear a painted mask.  He's been wearing custom painted masks for many years now, but a 2012 licensing agreement prohibited players from altering the helmets.  John got grandfathered in.  And there is a benevolent side to the story as well.  From CBSSports:
Buck, a nine-year veteran, says he's hardly flashy and it's not exactly his style to wear the most distinct piece of equipment on the field, but every year at the end of the season he auctions off his helmet for charity, and the bolder the design, the more money it seems to garner. 

"It seems like the flashier the helmet, the more they pay," Buck said, "It's for the kids, so I'll do the flashy helmet."