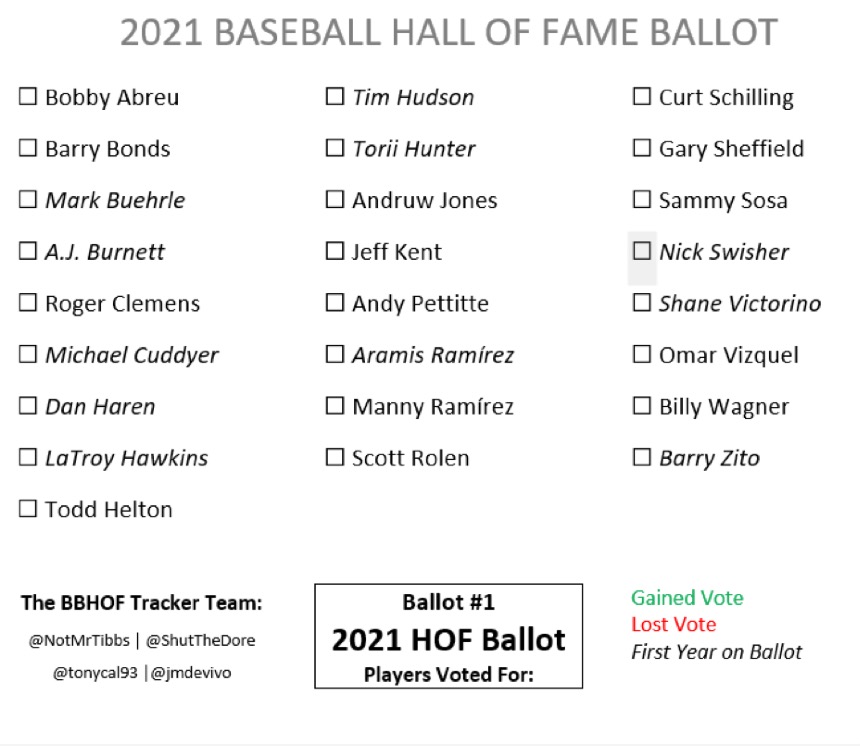 Here are my votes:
Abreu – I am not looking up his stats.  I watched baseball when he played and I never ever once considered this.  No.
BONDS – The Home Run King and The Home Run King.  Let's stop being stupid about this.  HEAVY YES.
Buehrle – you can't be serious. No.
Burnett – no.
CLEMENS – someone won 350 games in the 21st Century? We should name an award after the guy.  Seven CYs, right?  Stop being stupid.  HEAVY YES.
Cuddyer – really?  No.
Haren – no.
Hawkins – no.
HELTON.  Hmmm, let me look up his stats.   "Only" 369 HRs playing in Colorado in the 21se Century.  "Only" 2500 hits.  Nope, but you do get into the Hall Of Garvey with the really good players.
HUDSON – ya know, I didn't he was great but he did win 222 games in the 21st Century which like 4 people are gonna do.  He's in.  YES.
Hunter – doesn't even have Helton's stats. Nope.
Jones – Nope. Stats worse than I had thought they would be.
Jeff Kent – next
PETTITTE – 256 wins, 5 rings I think.  That's a 21se Century HOFer and I think he was overrated!  YES
Aramis Ramirez – who?  NO
Manny Ramirez – 555 HRs and 2500 hits doesn't impress me in the 21st Century.  Hall of Garvey for you.
Rolen – borderline Hall of Garvey.  NO.
PETE ROSE.  The Hit King.  Give him his day before he dies.  Write in as YES.
Schilling – let's make him wait and wait and wait and wait just for being him.  NO.
Sheffield – I want to put you in but I kept Manny out.  Sorry.
SOSA – YOU IDIOTS IN NEW YORK THREW HIM A TICKERTAPE PARADE AND THE MEDIA WROTE BOOKS ABOUT HIM SAVING BASEBALL.  IF THAT'S NOT IN THEN WHY EVEN HAVE THE SPORT.  YES, but not because of me, because of YOU. 
Nick Swisher – I laughed for an hour then started typing again. No.
Victorino.  Come on.  No.
VIZQUEL – Yes.  Not everything has to be 500 HRs.  2800 hits. Sure.  YES.
WAGNER.  No.
ZITO.   No.
Anyway, I stopped worrying about the museum in Nowhere NY.  If Bonds isn't in it's a joke.