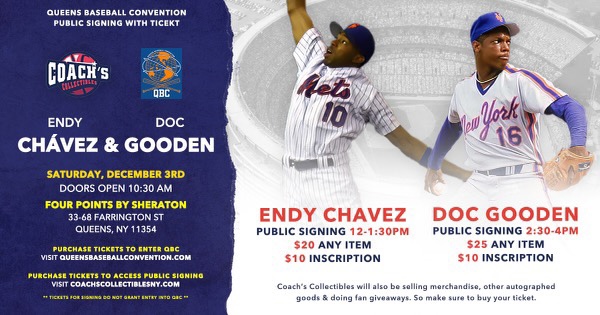 The Queens Baseball Convention is coming up and they had a new announcement..
Coach's Collectibles is Very Proud to announce we will be getting involved in the Biggest NY Met Fan Event of the Year, The Queens Baseball Convention 
The QBC, is an incredible fan event that can be described as hybrid between a Fan Fest & Comic Con that is All BLUE AND ORANGE BABY. We will be selling Unsigned & Signed Product from Framed Photos, to Baseballs, Jerseys and Everything In Between. We will ALSO be bringing in TWO Fan Favorite Mets at The Coach's Collectibles Booth to Sign for Fans, Endy Chavez & Doc Gooden.
The Event will also have Howard Johnson, RA Dickey & Bartolo Colon all Live in person signing autographs, Doing Q&A Panels and taking pictures with Fans.
The announcement of Gooden and Chavez included…
You MUST purchase a ticket to the event which will include an autograph from one of the Events 3 Guests to get in. You can purchase tickets at https://queensbaseballconvention.com

To obtain Autographs from our two guests youl purchase tickets from our website CoachscollectiblesNy.com and get your tickets day of at our booth

If you need to send in an item to get signed we can help you with that also! Just message us! We will have for unsigned items for both players to sign including Photos, Jerseys, baseballs, minj helmets and more
The QBC is Saturday December 3 at Four Points by Sheraton is located at 33-68 Farrington St, Queens, NY 11354, should be a fun day.