Wow a SECOND after-6-on-a-Friday press release!  This too didn't have an image, but this is kinda more fun anyway.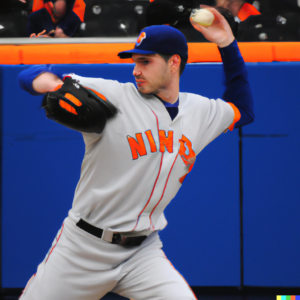 METS SIGN ALL-STAR RHP DAVID ROBERTSON
FLUSHING, N.Y., December 9, 2022 – The New York Mets announced today that the club has signed All-Star right-handed pitcher David Robertson to a one-year contract.
"We're very excited to add a pitcher of David's caliber to our bullpen," Mets General Manager Billy Eppler said. "He has been pitching in high-leverage situations for teams with Postseason expectations since his career started."
Robertson, 37, spent the 2022 season between the Chicago Cubs and the Philadelphia Phillies where he totaled a 4-3 record with 20 saves and a 2.40 ERA (17 ER/63.2 IP) with 35 walks and 81 strikeouts. Robertson ranked tied for seventh among National League relievers in opponents' batting average (.173), tied for eighth in saves and tied for ninth in strikeouts. He placed 10th among relievers in the majors in expected batting average allowed with a .176 mark (min. 200 batters faced). He recorded 20 or more saves in a season for the fourth time in career, also doing so in each year from 2014-16.
The Birmingham, AL native made eight appearances in the 2022 Postseason for the NL Champion Phillies, going 1-0 with a save and a 1.17 ERA (1 ER/7.2 IP) with five walks and 11 strikeouts. He threw 4.0 scoreless innings and recorded a save in this year's World Series. He ranks tied for eighth all-time with 41 career appearances in the Postseason, pitching to a 6-0 record in the playoffs with a save and a 2.78 ERA (14 ER/45.1 IP) with 16 walks and 53 punchouts.
The 14-year major league veteran owns a career record of 57-36 with 157 saves, a 2.89 ERA (237 ER/739.1 IP) with 305 walks and 977 strikeouts with the New York-AL (2008-14, 2017-18), White Sox (2015-17), Phillies (2019, 2022), Rays (2021) and Cubs (2022). His 731 career appearances are the eighth-most among all active pitchers, while his 157 career saves are tied for eighth-most. He ranks 13th all-time in strikeout rate by a relief pitcher, whiffing hitters at a 32.1 percent clip.
The right-handed pitcher earned All-Star honors in 2011 as a member of the Yankees, posting a 4-0 record with a save and a 1.08 ERA (8 ER/66.2 IP) with 35 walks and 100 punchouts. He finished 11th in Cy Young Award voting that season and 22nd in the AL MVP race.
Robertson was originally selected by the New York Yankees in the 17th round of the 2006 First-Year Draft out of the University of Alabama.