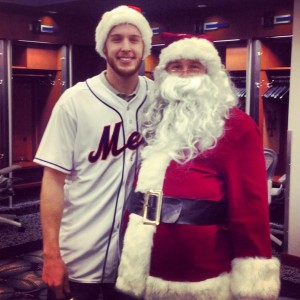 Thanks to my friends the Mets for inviting me to the Holiday Party which is tomorrow!  Unfortunately it's in Queens which is so annoying to get to that I avoid it at all costs. When I was younger and had more energy I attended the party a few times and it was lots of fun.
Manager Buck Showalter, OF Brandon Nimmo, DH Daniel Vogelbach, Todd Zeile and Mr. and Mrs. Met will be handing out presents to the children and participate in the festivities.  If Matt Harvey attended a holiday party instead of working out and watching game films you guys would be mat at him.
Todd Zeile will be taking on the Mets Santa Jinx.
Thanks for the invite Mets!