My friends the Mets sent this over.  First the press release, then the snarky commentary!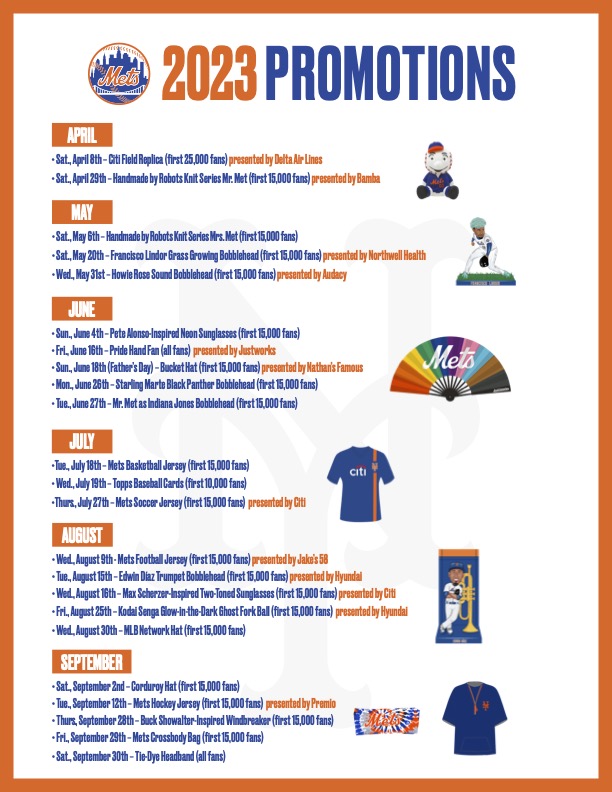 NEW YORK METS ANNOUNCE 2023 PROMOTIONS SCHEDULE
The Mets promotions schedule includes 23 giveaways, 12 theme nights and the Mets Hall of Fame induction.
FLUSHING, N.Y., March 8, 2023 – The New York Mets today announced the club's 2023 full promotions schedule for home games at Citi Field. Individual tickets for all home games at Citi Field are currently on sale and can be purchased online at Mets.com/Tickets or calling 718-507-TIXX.
The 2023 promotions schedule features 23 giveaways, 12 theme nights and the Mets 2023 Hall of Fame induction ceremony. The giveaways begin during the Mets opening series against the Miami Marlins on Saturday, April 8 with a Citi Field replica presented by Delta Air Lines.
The first of the bobblehead giveaways features the Francisco Lindor grass growing bobblehead presented by Northwell Health on Saturday, May 20. Other bobblehead giveaways will feature Howie Rose sound bobblehead presented by Audacy on Wednesday, May 31, Starling Marte Black Panther bobblehead on Monday, June 26, Mr. Met as Indiana Jones bobblehead on Tuesday, June 27 and an Edwin Díaz trumpet bobblehead presented by Hyundai on Tuesday, August 15.
New for 2023, there will be four sports jersey nights including a Mets basketball jersey on Tuesday, July 18, Mets soccer jersey presented by Citi on Thursday, July 27, Mets football jersey presented by Jake's 58 on Wednesday, August 9, and Mets hockey jersey presented by Premio on Tuesday, September 12. Apparel giveaways will continue with Pete Alonso inspired neon sunglasses on Sunday, June 4 and Max Scherzer inspired two-toned sunglasses presented by Citi on Wednesday, August 16. A Father's Day bucket hat presented by Nathan's Famous on Sunday, June 18, MLB Network hat on Wednesday, August 30, Mets corduroy hat on Saturday, September 2, Buck Showalter inspired windbreaker on Thursday, September 28, Mets crossbody bag on Friday, September 29 and a tie-dye headband on Saturday, September 30 will round out the schedule for wearable items.
Other giveaways during the 2023 season include Handmade by Robots Knit Series Mr. Met presented by Bamba on Saturday, April 29, Handmade by Robots Knit Series Mrs. Met on Saturday, May 6, Topps baseball cards on Wednesday, July 19 and a Kodai Senga glow-in-the-dark ghost fork ball presented by Hyundai on Friday, August 25.
The first of the Mets theme nights will begin on Saturday, May 6 with Mental Health Awareness Day. The Mets will host Pride Night on Friday, June 16 where all fans will receive a Pride themed hand fan presented by Justworks, Black Legacy Game on Monday, June 26, Filipino Heritage on Thursday, June 29, Irish Heritage on Sunday, August 13, Korean Heritage on Monday, August 14, Japanese Heritage on Friday, August 25, Women's Equality Night on Saturday, August 26, Taiwanese Heritage on Sunday, August 27, Chinese Heritage on Friday, September 1, Jewish Heritage on September 3 and Hispanic Heritage presented by Hijole on Friday, September 15.
On Saturday, June 3, the Mets will induct infielder Howard Johnson, LHP Al Leiter and broadcasters Gary Cohen and Howie Rose into the Mets Hall of Fame in a pre-game ceremony. The four new additions will bring the total membership of the Mets Hall of Fame to 34. Jay Horwitz will also be honored with the Mets Hall of Fame Achievement Award for his contributions to the organization.
Additionally, the Mets will host DJ Nights every Friday from Memorial Day through Labor Day and fireworks nights the first Friday home game each month during those months. The fireworks night on September 1 is presented by Toyota.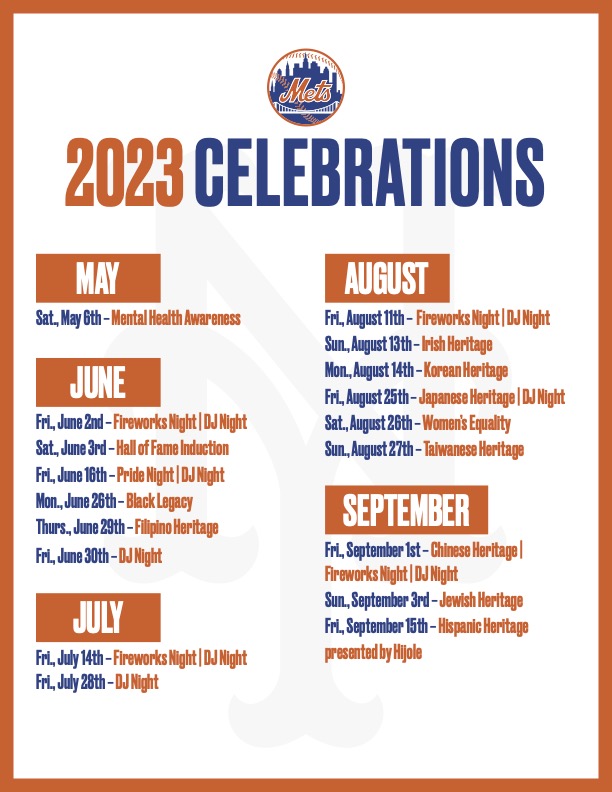 Taking a look at the celebrations – hopefully the Mets will go all in on the stereotyping.  I know many of you LOVE this look….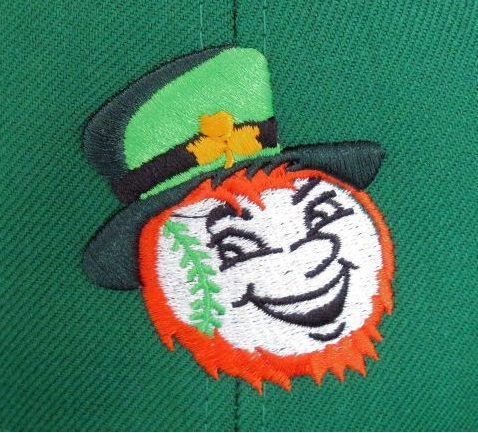 …so hopefully Mr. Met and the Mets will do something similar to honor Japanese, Chinese, Jewish and/or Hispanic heritage, because there's nothing wrong with the above, right?  So go all in and see what happens, Mets.
Also, bad news for people of Italian heritage (including Matt Harvey and Donald Trump Supporter Mike Piazza), it looks like the Mets are not interested in you this season.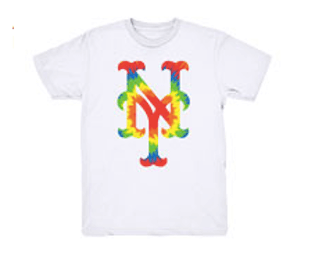 The Mets will also have Pride Night where they will show their commitment to the cause by presumably NOT wearing Pride uniforms even though a few MLB teams have done so in recent memory.
On to the giveaways…these first few are fine..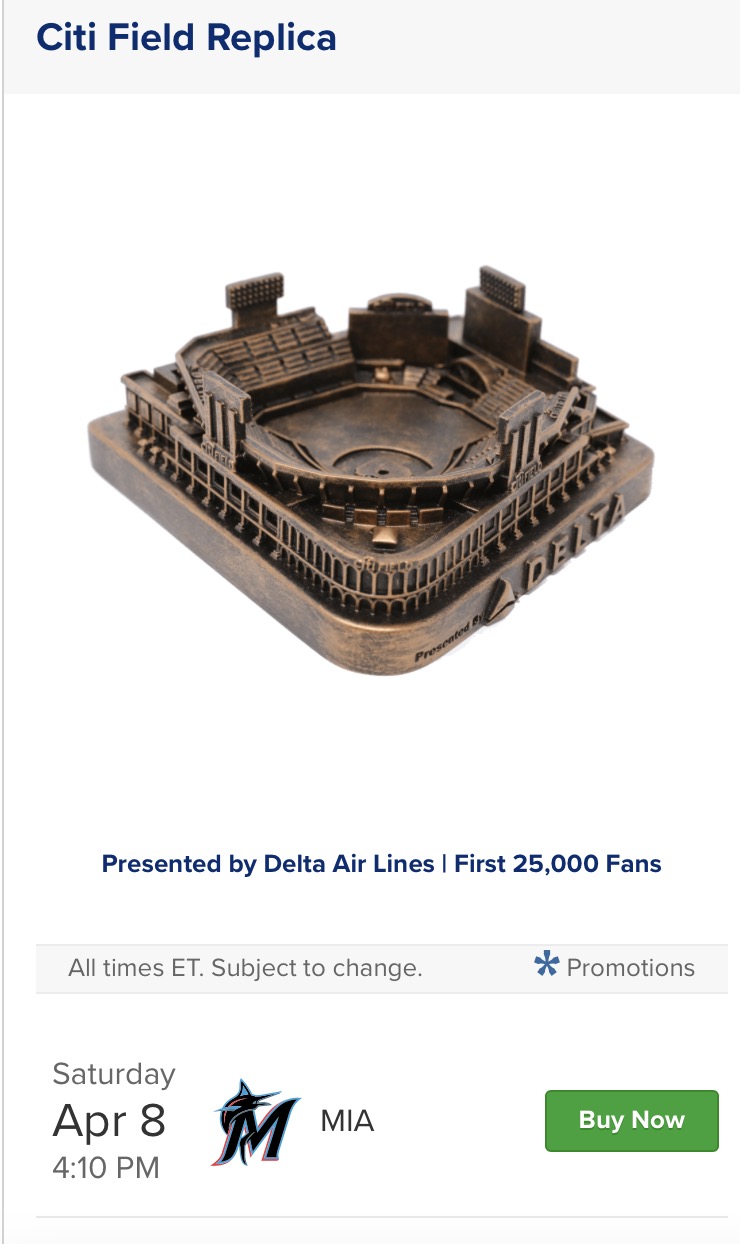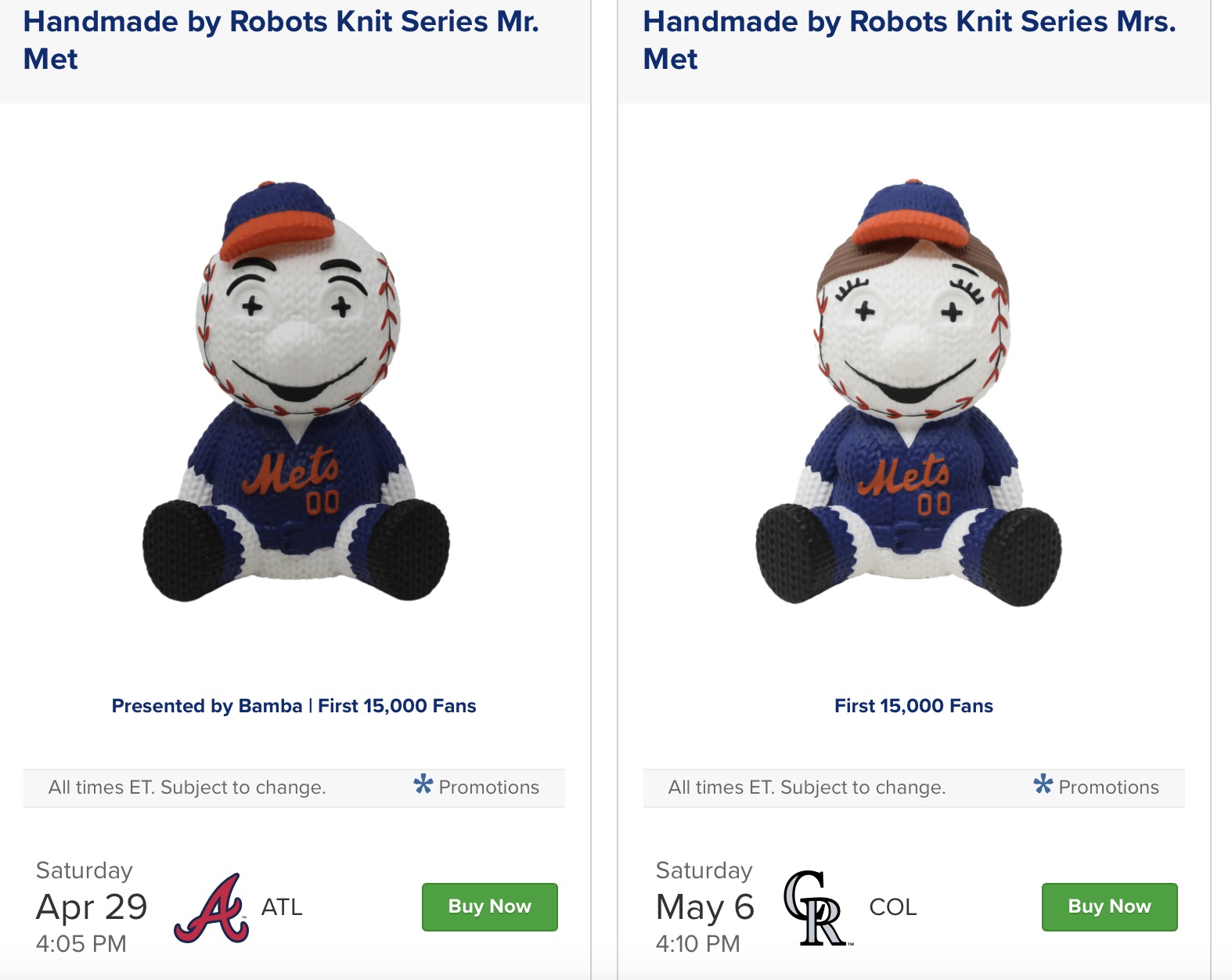 Then we have this.  The Mets have the batting champion, a Polar Bear guy, Max Scherzer, Justin Verlander, Brandon Nimmo and they go with the asshat that booed his own customers.  Plus the Mets think they are being coy doing this against the Cleveland Baseball Team – but that's a setup for Amed Rosario to roll into town with MVP stats and its LOLMets time.  Good. Bring it on Amed.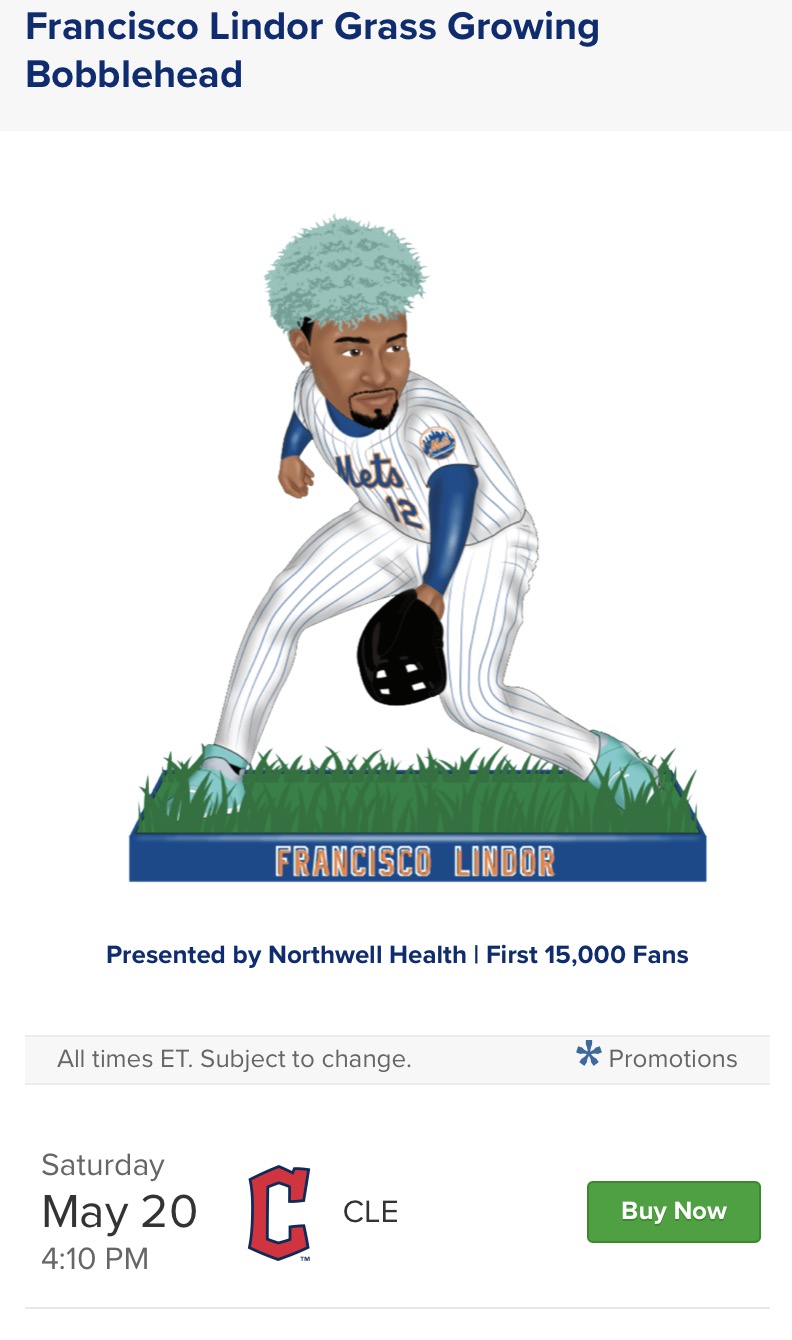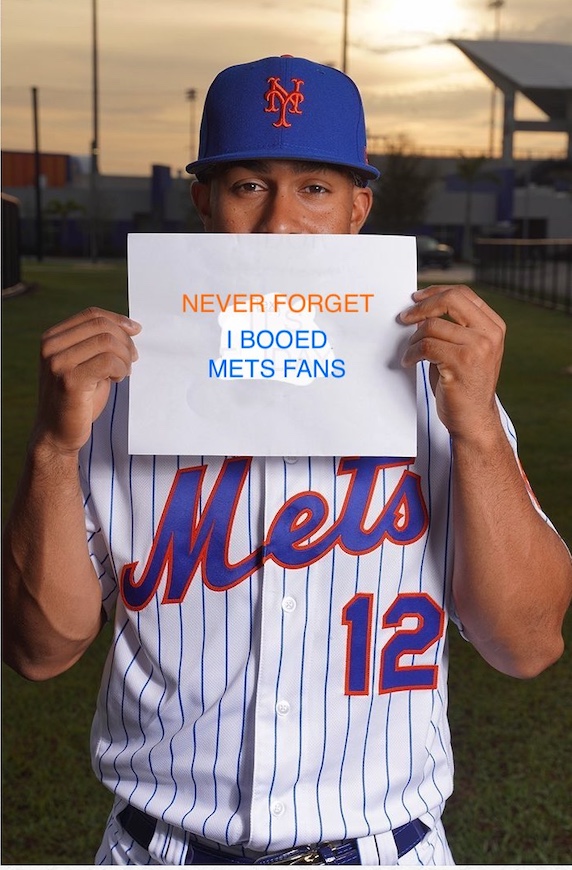 Then there's Howie. Everyone loves Howie, except of course the early 1990s Mets that wouldn't let Howie air until well after the official broadcast, but every likes to pretend that didn't happen.  The Mets love Howie!
Then there are these…"inspired" by Pete.  It's too bad there's no like cool thing you could do with Pete, like if he were a teddy bear or something.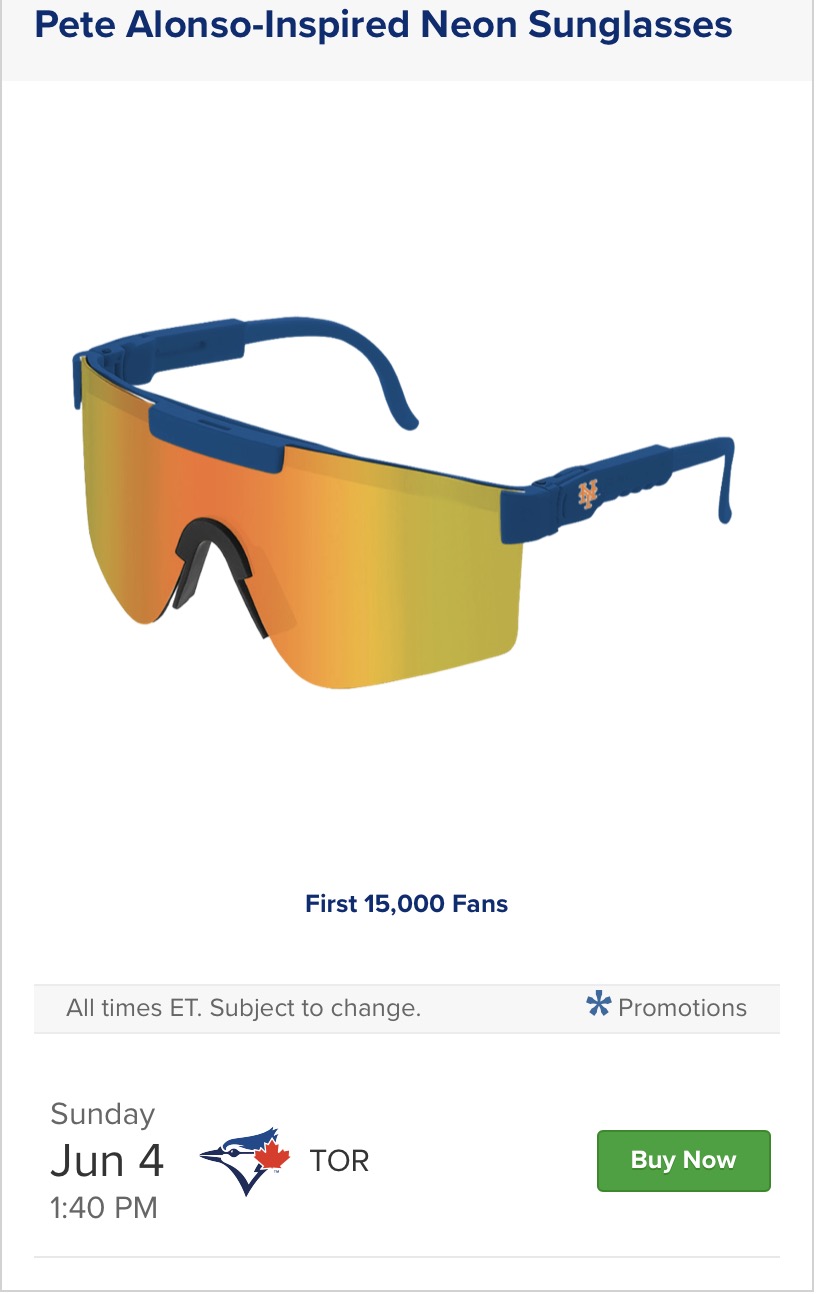 Moving on, let's see how committed the Mets are to the pri…..Jesus Christ Mets, are you kidding with this???? Could you at least TRY.  How about a cap day but the NY is in rainbow.  Or you know, take the field in pride jerseys to show you mean it.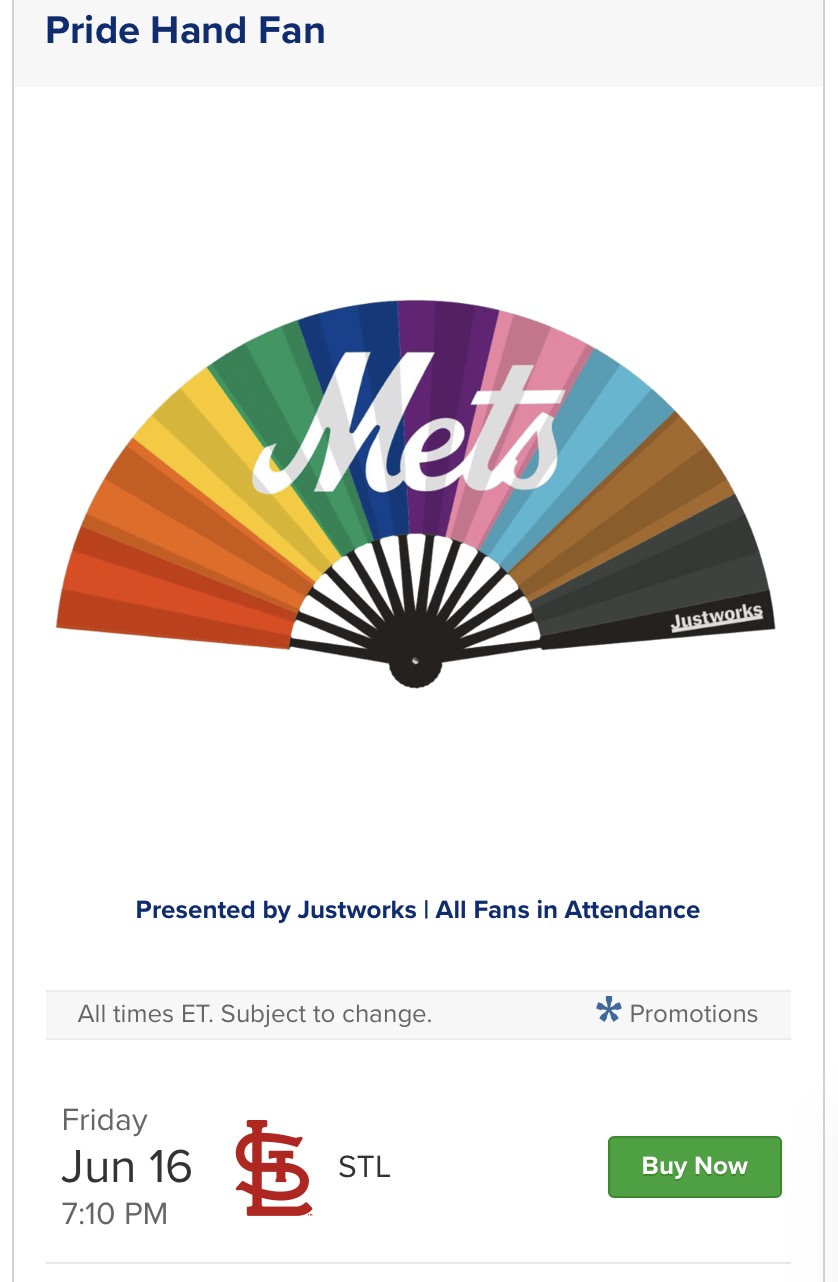 Idea for the Mets to borrow…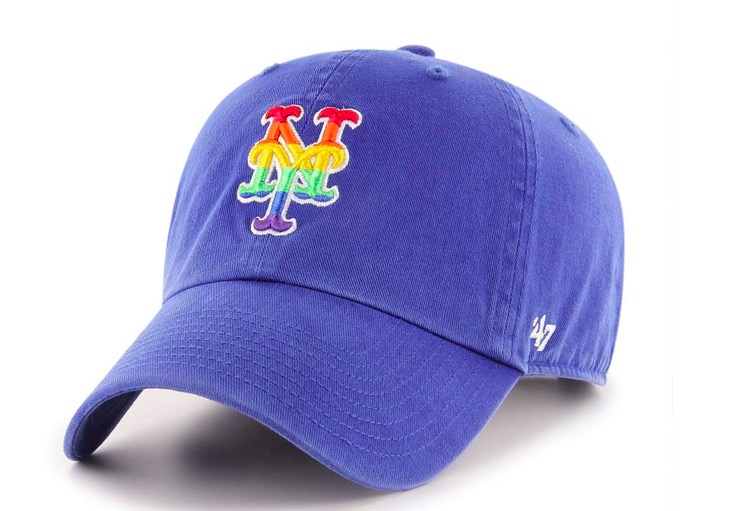 These next two are PRETTY COOL.  See Mets, if you do good things I will say good things.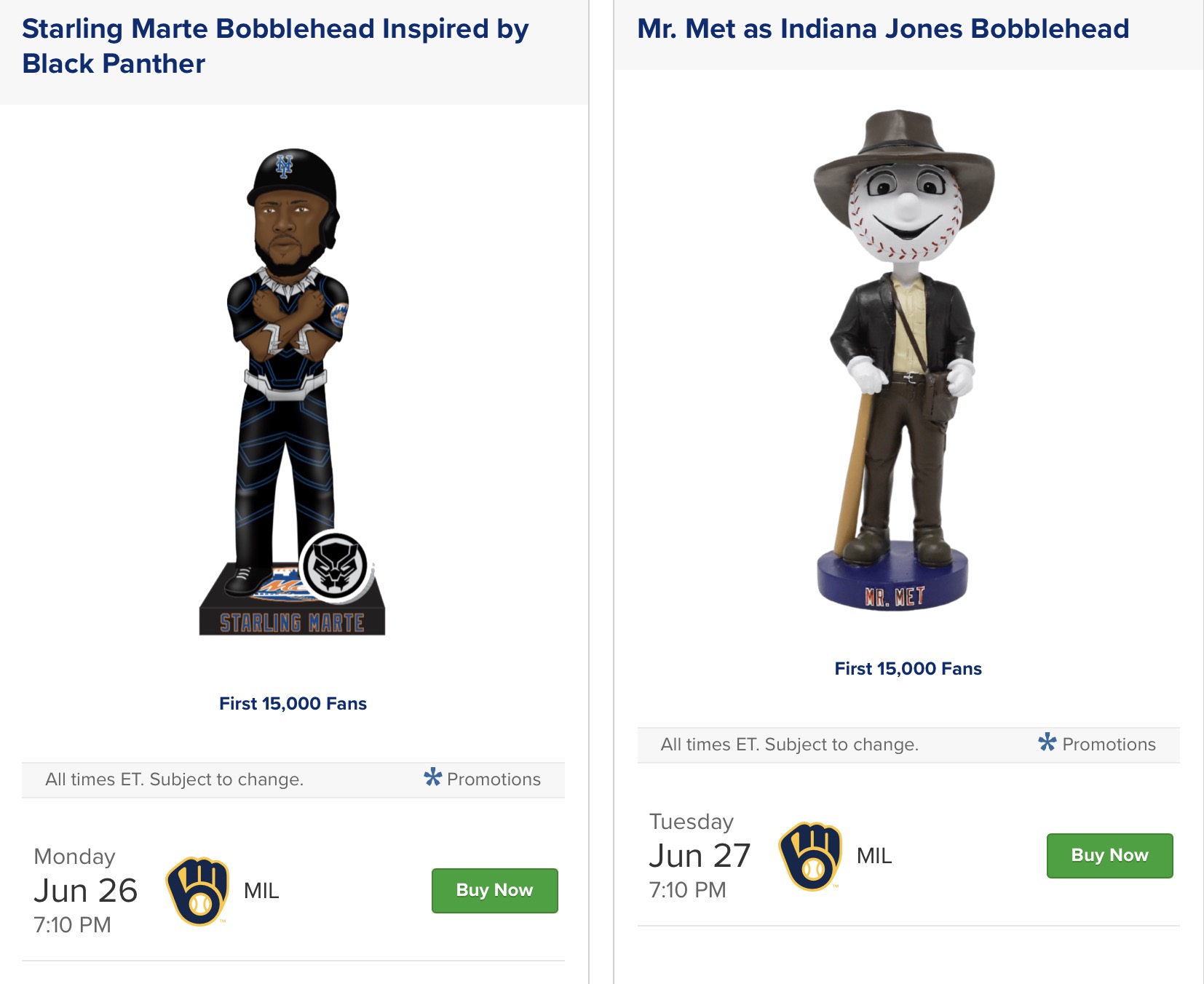 These next things are also VERY COOL.  Nice job Mets.  Hey @mediagoon I will take your soccer jersey since you hate soccer.  XL please.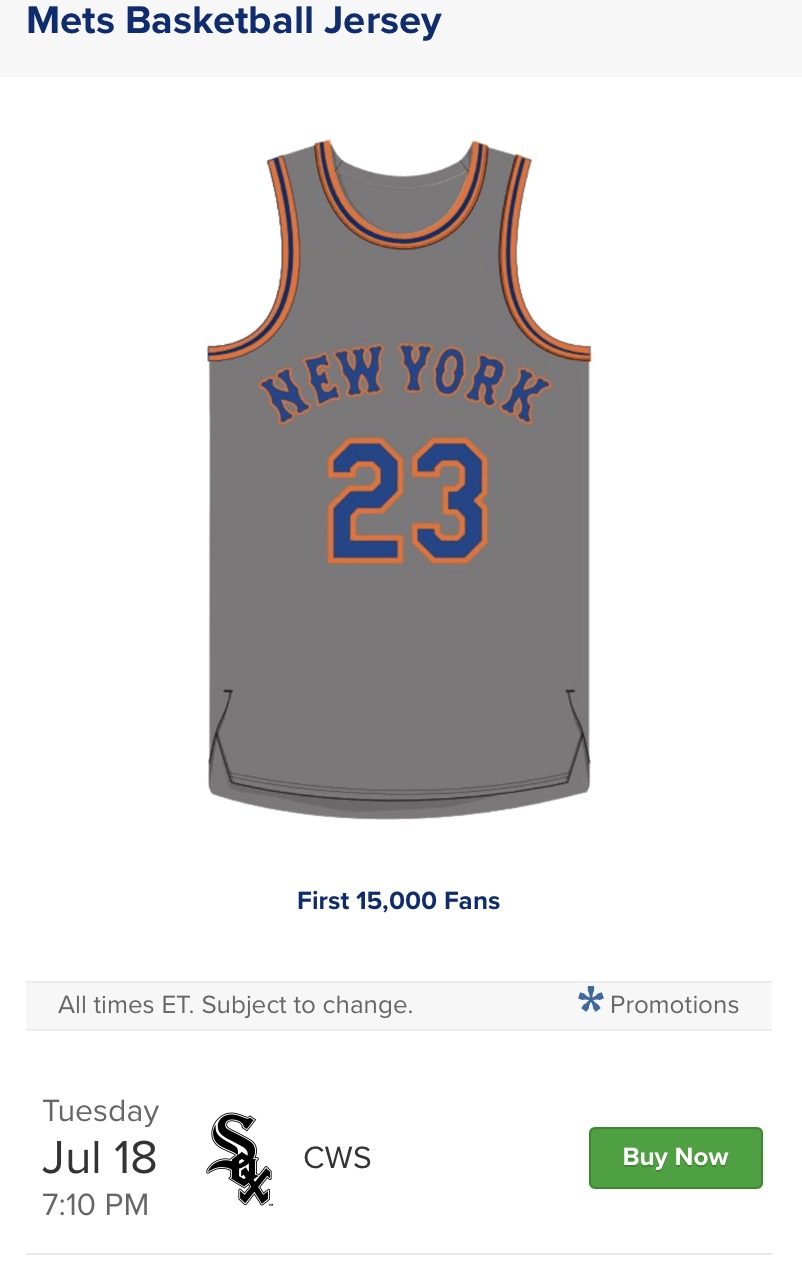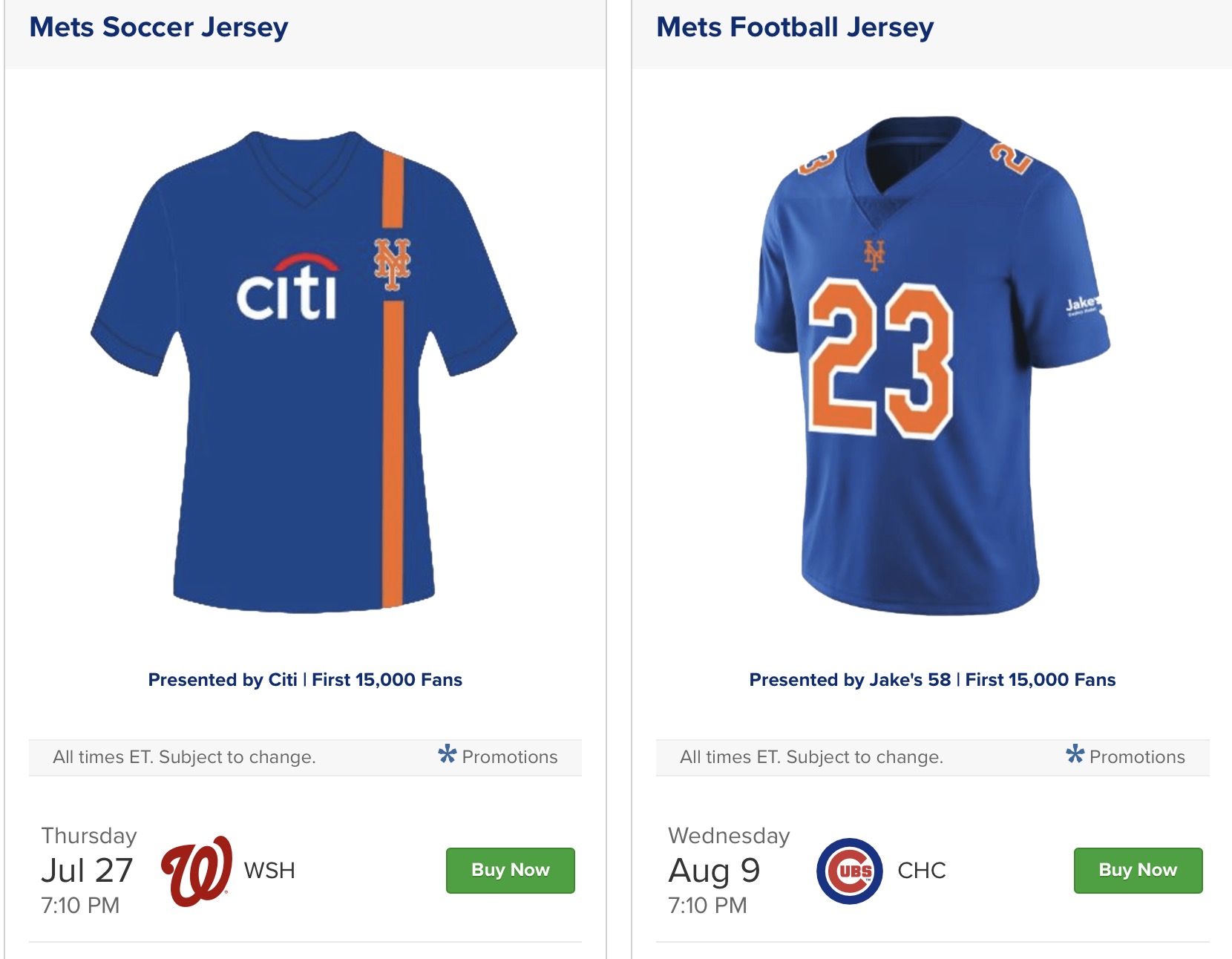 There is also a hockey jersey on the schedule but the Mets graphics garage didn't get around to making a mock yet.
Finally, the Mets continue to make comment on people's appearances, which is weirdly out of tone for 2023.  Odd choice here…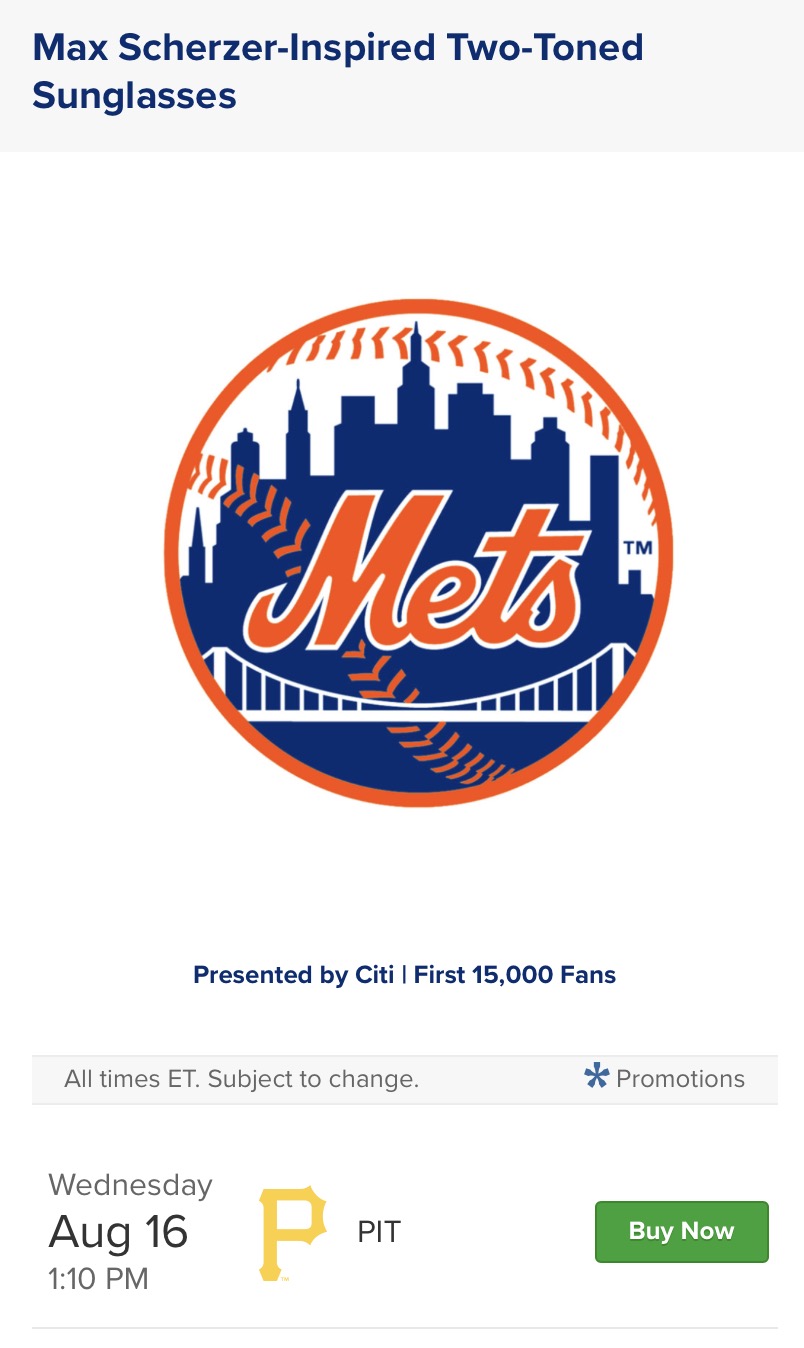 Not only is it weird, it's not useful. Are you going to wear these glasses ever again? No.  All the Mets are doing is creating plastic waste.
Max is into supporting dog adoptions…why not do something like that Mets?
Anyway those are the 2023 Promotional Events.  I won't be attending any, after all, baseball is boring and too many teams make the playoffs.  Have fun!