Nice job by The City who are still paying attention to the casino story.  Why are we handing over land to one of the richest people in the world so he can build a casino?  You'd have to ask Mr. Aubry I guess…
$9400?  That's like offering a blogger half a steak sandwich and a bottle of water.
Why the rush to make the rich richer?  You want to improve the park? BUILD SOMETHING RESEMBLING A PARK.  A CASINO IS NOT A PARK.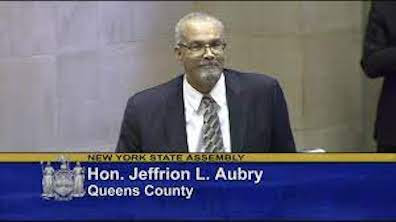 …. legislation introduced by Assemblyman Jeffrion Aubry (D-Queens) calls for the parking lot to be developed for "a gaming facility and, in conjunction with such facility, commercial, retail, entertainment, recreational, hotel, convention, and or community facility uses," according to the bill text.

Because the Citi Field lot is technically parkland, (editors note – it is not "technically" parkland, it IS PARKLAND.  You are not "technically human")  designated in 1939 as part of Flushing Meadows-Corona Park, it requires state intervention to "alienate" it to facilitate construction.

Aubry's bill specifies that the land be discontinued as parkland "through the entering of leases or other agreements with New Green Willets, LLC, its affiliates, or any other entity or entities," referencing the lobbying firm owned by Cohen. As part of what's known as "park alienation," the city would have to find at least 20 acres of replacement parkland or significantly improve other existing greenspace — paid for by the private developer, according to the legislation.

…

Cohen and his team have spent hundreds of thousands of dollars lobbying local politicians for the development plan. He, his family and their associates have also doled out mounds of cash to several key elected officials' election campaigns.

His wife, Alexandra Cohen, gave $117,300 to the state's Democratic Committee last year, and the in-house lobbyist of New Green Willets and a top aide, Michael Sullivan, gave nearly $35,000 to local elected officials. That includes $9,400 to Aubry, and $5,000 to Ramos and State Senate Deputy Majority Leader Mike Gianaris (D-Astoria).  (via The City)

…
Aubry told The Post that he wanted to give Cohen's team a shot at winning the casino bid.

"They would not be able to compete without the legislation. They should have an opportunity to compete," Aubry said.
Why is that Mr. Aubry?  Why should they have an opportunity to compete?  I would like to build a casino on the site of your present home.  Can I do that?  Why not?  I propose you enter legislation redistricting your home as a site available for my proposed casino, which will improve your neighborhood and I increase the green space presently taken up by wherever it is you live.  My casino will also bring jobs to your neighborhood.
"I'm also interested in the jobs and opportunities that would be provided to the local communities."
Good.  We agree.  So let me knock down your house and build my proposed casino.  It is only fair that I have an opportunity to bid.
Just as important, Aubrey said, is that a public park and path would run connecting the Willets Point No. 7 station to the Flushing Marina as part of the redevelopment. (New York Post)
Is there no way to build this vital public path without a CASINO?  Like maybe….I dunno…build a path?