I was a big fan of Bobby Valentine as manager of the Mets, and think he's great as a commentator. He also can be pretty much a dick sometimes. The thing is, his most shocking comments, the ones that cause controversy and outrage, he is usually right about. After all, Derek Jeter WAS out of position when he made "the flip," and the Mets were more visible than the Yankees in the first few weeks after 9/11. Anyway, those who love him, love him at least in part because of the "shocking" things he says.
You can follow Bobby Valentine on twitter, but on twitter, shockingly, @BobbyValentine is really really boring. Who could have predicted that? Great job, Sacred Heart, blah blah blah.
Going to SF. Wish USA was going to be playing.

— Bobby Valentine (@BobbyValentine) March 16, 2013
Anyway, Bobby Valentine was on WFAN with Joe Beningo and Evan Roberts on Thursday. As you would hope from Bobby Valentine, he made some interesting comments. The part that might make the most headlines is what he said about Ruben Sierra. He claims he noticed Sierra put on a ton of weight over one offseason, and wasn't known as a weightlifter. Bobby inquired about it, and was told by people that he should stay out of it. Evan pushed him on who was trying to hush him, but Bobby acted as if he couldn't remember because it was a long time ago, but clearly he remembered getting the message to look the other way.
Bobby was asked about Mike Piazza and the Hall Of Fame. Bobby said Mike was unquestionably the best hitting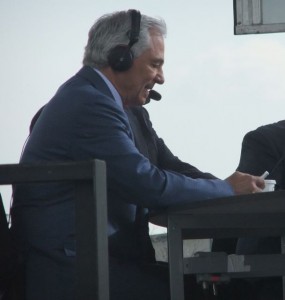 catcher of his generation, and maybe in the history of the game and he deserves to be in the Hall. He said he never even had a hint that Mike might be using PEDs, but admitted who was using what wasn't something that anybody cared about at that time.
Bobby then made an excellent point about the BBWAA that I hadn't ever considered until now.
"The [writers] who voted for Mike to be the MVP… probably aren't voting for him now to go to the Hall of Fame"
Mike Piazza never actually won an MVP award, though he finished second in 1996 and 1997, and finished in the top 10 seven times.  However, when you consider Barry Bonds' case, Bobby Valentine's point is made clear:
The exact same writers who won't put Barry Bonds in the Hall of Fame (less than 35% of writers voted for him this year), voted for Barry Bonds to be Most Valuable Player SEVEN times, including EVERY year from 2001 to 2004, when he got 91 percent of first place votes and even people who thought O.J. was innocent knew that Bonds was juicing.
The HOF voting group is larger than the MVP group, but still – how 'revisionist history' can a group get?
For a long time I thought it was justified keeping Barry Bonds and Roger Clemens out of the Hall, because in my mind these guys were obvious cheaters. These guys were so stubborn about their denials of blatant 'roid use, I thought they deserved what they got. But lately I've been coming around. Barry Bonds was unquestionably the dominant player of his era. He absolutely deserves to be in the Hall, whatever he was using to inflate his biceps and cranium.
When Piazza eventually gets into the Hall of Fame, I will take my son to the induction ceremony. (He's six now, hopefully he won't have to drive me to Cooperstown.) I think Barry Bonds should have a plaque too.
Hope to meet you guys at the QBC – I'll be wearing a UVA "V" baseball cap. If you see me, say hello!