Hey Mets fans,
I am home tonight enjoying the couch and HDTV while some Yankees fan enjoys my jacked-up-on-Stubhub seats (I told you guys I am a capitalist) but my Yankees friend Mr. Sunshine is there.
Sunshine enjoys his privacy so I won't post the pictures from his seats (he has some good ones, this guy must make lots of money) but he did send over this shot.  (Click on it for a much bigger version).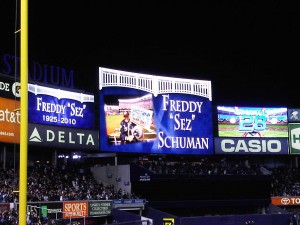 I'm glad to see that the Yankees honored a fan.  Cool move.
As I typed this Hamilton hit this one out.  Attention sportswriters: you can park your generic "Andy is a winner, true Yankee, Joe is a genuis" column and dust off the other one, the "Girardi blew it and should've started Andy in Game 2" article.   However, it's early..maybe you'll get to use that first one yet.
Oh and John Smoltz just talked about the quiet crowd that "you're not used to at Yankee Stadium."  Well John you are technically correct….at Yankee Stadium it was loud.  At Fake New Yankee Stadium it is quiet.   Lousy upper deck design and fat cats (and Mr. Sunshine, who does cheer) down low.