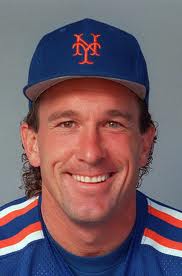 According to Mets By The Numbers, no Met has worn #8 since the end of 2002.
So, in effect, #8 is retired.
It cannot be an accident that #8 sits unused, like 24 and like 31.
Someone is choosing not to issue the number.
So retire it.
Have Gary Carter out to Citi Field to retire #8.  Man, that will be one hell of an emotional day for everyone involved.  I know I wouldn't be able to get through it without getting misty eyed.
He's in the Mets Hall of Fame.  He is in Cooperstown.  He won a ring.  He was the co-captain.  Nobody wears the number anyway.
We can argue a different day about 17, 31, 16, 18, 36 or whatever other number you want to argue about.
This is about Gary Carter.  Fan favorite.  Team captain.  Champion.  Hall of Famer.  The first person you think of when you think of 8.
This is a family.  Don't wait until it's too late to tell someone you love him.  Especially when nobody is using the number anyway.
UPDATE: The Mets ran some video of Gary at Sunday's game which you can see here thanks to Peter