A way back this image was discussed round these parts.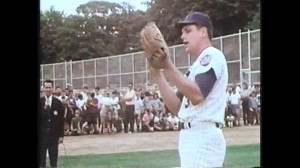 Why would Tom Seaver be wearing a number that starts with 3? (Click on it for bigger image) He wore 21 in the minors so it's not that…
Well, in the video Kooz that I linked to last night (scroll down the blog) we see this lefthander wearing #41.  It's a screen grab of a video of a throwing motion and the 41 is never quite clear.  Click on it for a bigger view.
Looks like the boys switched numbers for a day.