Here's the official press release about the steak sandwich we told you about last week (thanks to @coreync via the NY Times). And don't forget tomorrow we will all get our first look at the all Star Game logo. I wonder what it looks like. (I kid because I love you Mets)
As for the sandwich, I look forward to @mediagoon buying me one. Or maybe @the7line, I've been seeing tons of his shirts, he could buy a guy a sandwich.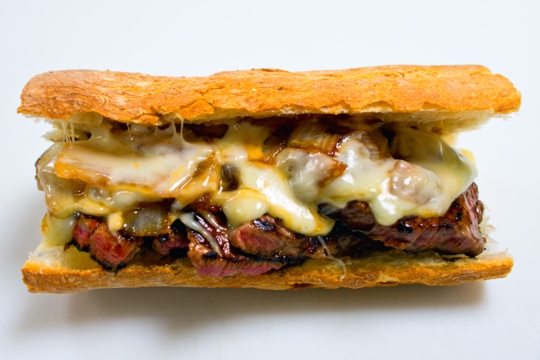 PAT LAFRIEDA TO DEBUT
ORIGINAL FILET MIGNON STEAK SANDWICH
TOMORROW AT CITI FIELD
New York City's Top Meat Purveyor Will Unveil
The Pat LaFrieda Original Steak Sandwich, Available Exclusively at Citi Field
FLUSHING, N.Y., August 6, 2012 – The New York Mets today announced that Pat LaFrieda of Pat LaFrieda Meat Purveyors will introduce his Original Filet Mignon Steak Sandwich to the public at Citi Field tomorrow, Tuesday, August 7 when the Mets host the Miami Marlins at 7:10 p.m.
The original LaFrieda family recipe features hand-cut 100% black angus seared filet mignon topped with Monterey jack cheese and sweet caramelized onions, served with a secret au jus on a custom-made and toasted French baguette (see attached photo).
The sandwich will be available in LaFrieda Meats' own stand in Taste of the City on the Field Level behind the centerfield scoreboard near section 139. This officially marks LaFrieda Meats' first and only retail location. Prior to Citi Field, LaFrieda's steak sandwich was only available to lucky family and friends.
"We are honored to be the first public venue to sell Pat's signature sandwich," said Jeff Wilpon, Chief Operating Officer, Mets. "Pat, with his long family history in the meat world, well-respected work ethic and choice of quality meats, is a perfect addition to the All-Star lineup of world-renowned restaurateurs and chefs at Citi Field."
"Partnering with the New York Mets to bring our steak sandwich to the fans at Citi Field is a dream come true for our family," says Pat LaFrieda. "While at a game recently, I noticed a great steak sandwich was the only thing missing from the phenomenal food line-up, and thought our LaFrieda family recipe would be a perfect fit. We are honored to be able to open our first retail location at the home of the Mets where the Pat LaFrieda Original Filet Mignon Sandwich will take its place amongst the superior quality of food at one of New York City's most iconic venues."
Pat LaFrieda Meat Purveyors will also supply Citi Field's Delta Sky360 Club and Acela Club.
LaFrieda, known as the "Magician of Meat," owns and operates New York City's most prestigious and valued meat packing facility, Pat LaFrieda Meat Purveyors, which supplies the finest restaurants in NYC, DC, Philadelphia, Ohio, Las Vegas, Miami, Chicago and more. His family stars in the reality show "Meat Men" on The Food Network, which debuted in April. The third generation meat supplier is famous for its aged steak program and over 50 custom hamburger blends. LaFrieda is the mastermind behind such burgers as the famous "Black Label Burger" and aged steaks at Minetta Tavern (the reigning haute burger in NYC), as well as signature custom blends at hot spots such as Shake Shack, Spotted Pig, Union Square Café, and Blue Smoke.