10. Green Daniel Murphy 2012 St. Patrick's Day jersey
Only one of three in existence. One owned by me, one by @mediagoon and the other was worn by Murph. I had to go to great lengths and ask a big favor of someone awesome to come up with this one. They know who they are. Thank you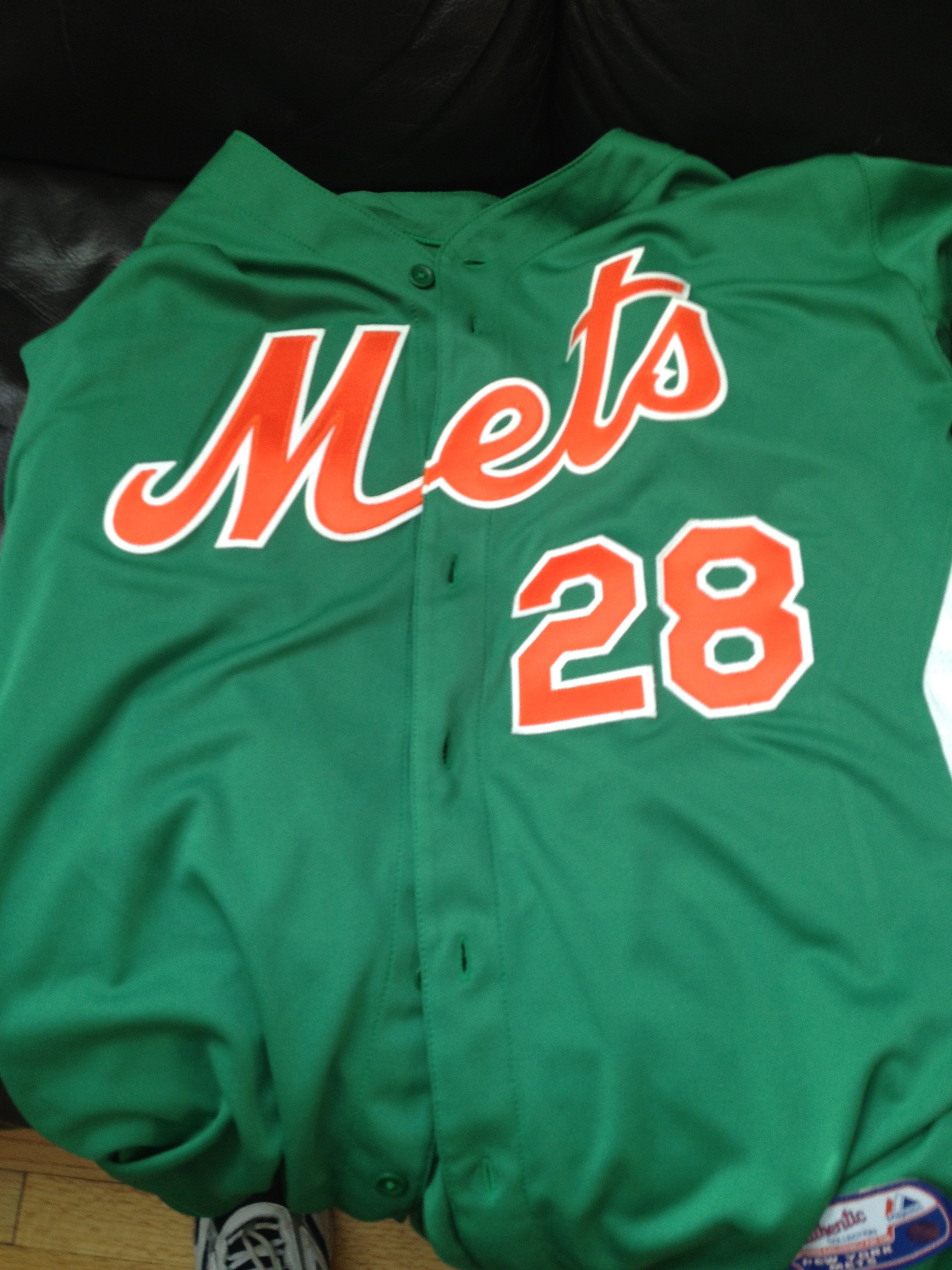 9. 2012 Los Mets jersey
The blue helped open the eyes of the non-believers to how awesome the blue jerseys would be.

8. 1992 Throwback road jersey
One of the silliest afternoons on twitter was spend doing detective work on whether or not the Mets would wear these. They did. Yes of course I bought one.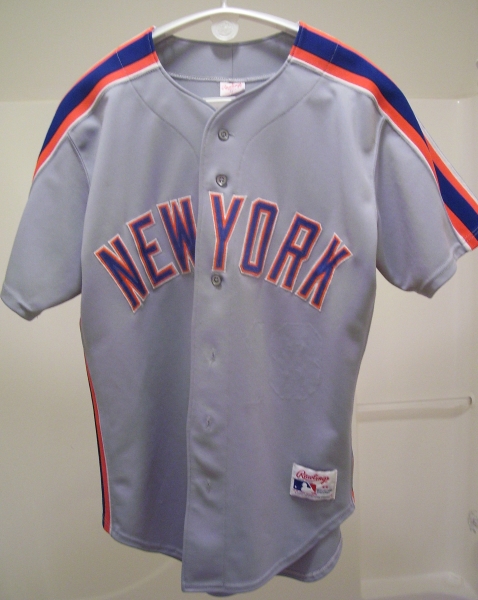 -Goon here. Mr. Shark must be hitting the egg nog really hard this year. The above jersey is not what the Mets wore this year. The throwback did not have buttons. Here is the right one.
Shannon here – I wish my jerseys closet hadn't been overrun by Christmas presents and comforters.  My throwback is one of the missing jerseys along with one of my New York Baseball Giants throwbacks.  Good catch by you!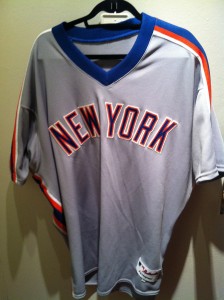 7. David Wright home jersey
I have to honor both David (Mets Hit King) and the beautiful home-dropshadowless jersey in here…so why not this one? (And I'm able to work in the pinless dropshadowless by using this picture.)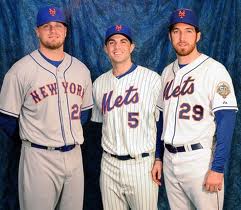 6.  Rusty Staub Bobblehead jersey
Man did I put my foot in my mouth with this one.  After killing the Mets for a week that they put Rusty in a 2012 pinless…and then debating that there was no way the Mets were clever enough to use a 1981 (or so) road…well they sure did.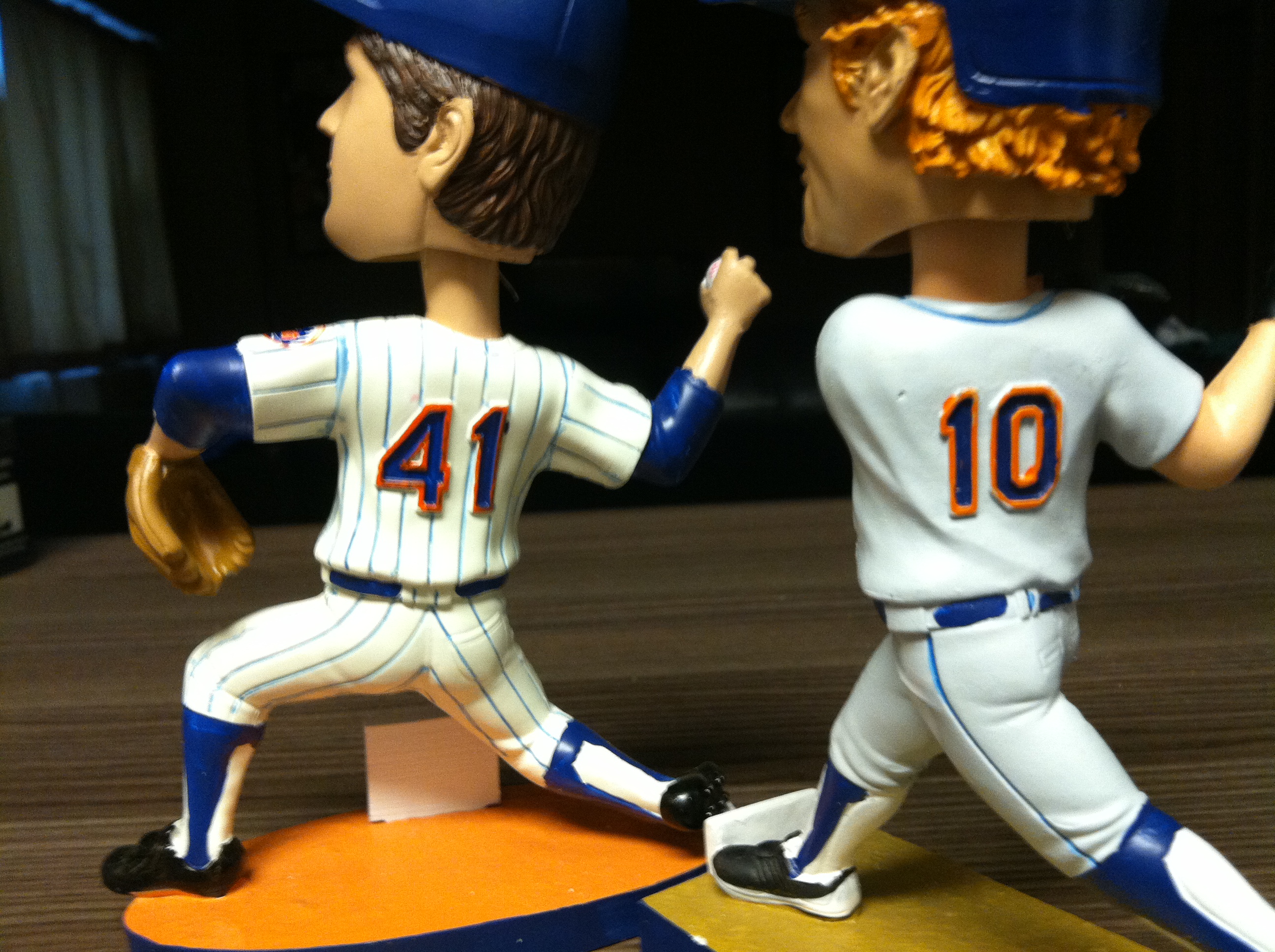 5. Mysterious Prototype

This one showed up at the awesome Hofstra conference. It's rare to find out about something I didn't know existed. WANT.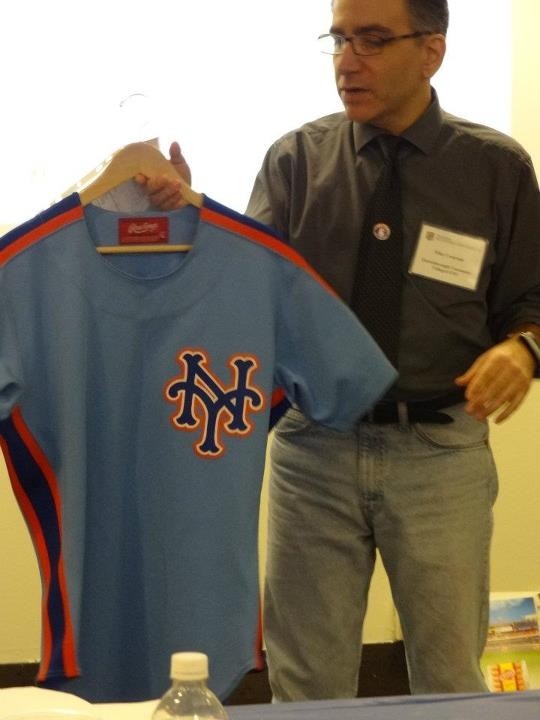 4. Gary Carter t-shirt
This is not a jersey so go ahead and boycott my list but it was one of the most important pieces of Mets-wear seen this season.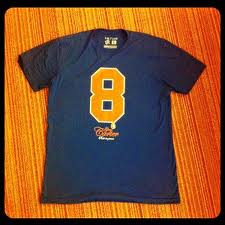 3. R.A. Dickey Mets All Star
How could you not be happy for this guy?
And this particular jersey was my "formal wear" seen at Opening Day and Banner Day. A long time coming, a look much appreciated by the masses.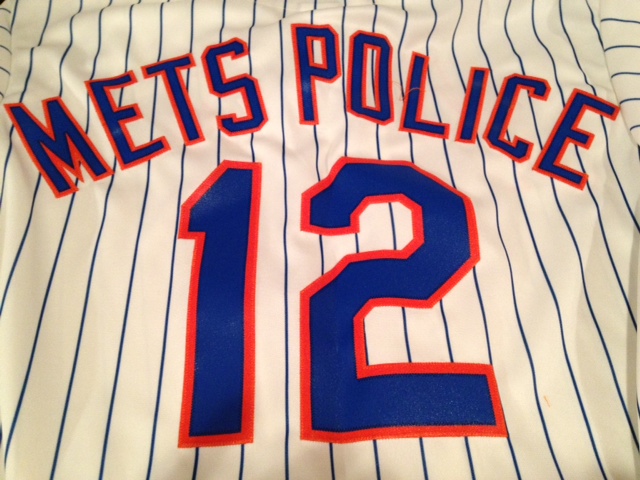 Goon here again. Wow, must be some great egg nog Mr. Shark is drinking or he is chasing around Mrs.MP with mistletoe tied to a stick off his Mets hat. Two mistakes in one post.Unheard of. Above is a replica home. Here is an authentic road.
Shannon here – Goon you ain't kidding.  This is one of those "hey this room is quiet, I will sit here quietly and quietly do a post."  Then everyone showed up.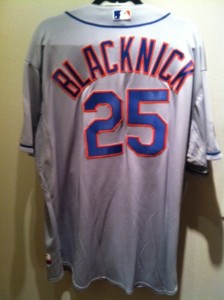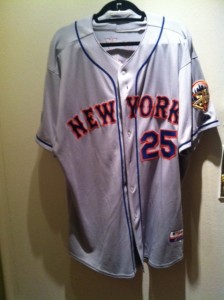 1. Blue R.A. Dickey jersey at Modell's for $20 (road)
R.A. will become more powerful than you can possibly imagine in absentia. This is The People's Jersey, and many of us got one for $20 at Modell's. Yes the home one is cool too but I like the look of the road jersey even more than I thought I would.