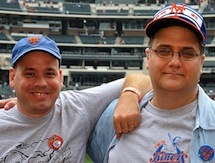 One of television's longest running dramas Mets had a fabulous 51st season as show runners  Greg Prince and Jason Fry  continued their masterful mix of the improbable and implausible, with just the right amount of sweetness and heartfelt moments to keep any long time fan to keep tuning in.
Mets started in 1962 (much like Dr. Who) and had a long long run on channel 9 before moving to basic cable.  The series has been marked by long dramatic arcs – the rise and fall of Dwight Gooden being one of the most memorable.  The 1969 season featured a superb parallel between the United States putting a man on the moon and our ragtag team winning the World Series – both unrealistic even for the most creative of writers.
While the 1983 return of Tom Seaver didn't live up to the 1977 mid-season finale, it did spark a creative return to a series that nearly was canceled in the fall of 1979.  A fresh cast, lovable rogues, invigorated the series until they too became too expensive and left the series when their initial contracts ran out.
Then, much like Saturday Night Live there were some more lean years before the writers brought back a minor character (Bob Valentine) from twenty years earlier to lead the team as manager.  Similarly reaching back to the past, the return of Keith Hernandez, now some sort of Rizzuto-like elder statesman has been a welcome addition to recent seasons.
Below is an episode guide of the three most recent seasons.
S51e01 – Change
New uniforms are announced.  The fences are moved in.  Ike contracts a mysterious illness.  Andres Torres joins the cast as Andres.   Minor character Bob Melvin is written out.  Former series regular Davey (Dave Johnson) makes recurring appearances this season as the manager of a rival team, but the plot-thread is never fully developed.
S51e02 – Hot Foot
Johan returns from the two-season arc that had him dealing with arm problems off-screen.  Terry has the team off to a hot start with a sweep of Atlanta but all is not right with Ike, and Pelf is out for the year.
S51e03 – 8020
A few days after Banner Day returns, Johan throws a no-hitter.  Former series regular Carlos Beltran makes a cameo in a controversial scene that some felt was too much of a coincidence to really happen. Terry wonders if he left Johan in too long.
S51e04 – Back in Black
Former series regular John Franco and comedian Bill Maher both cameo.  Many fans feel this episode was simply a ratings ploy and the season's creative nadir.
S51e05 – Royal Treatment
R.A. is selected to the All Star Team but may not be selected to start.  Johan loses the ability to pitch well.
S51e06 – The New Ace
Johan is once again shut down for the season but R.A. wins 20 games while David becomes the new team leader in hits.
S51e07 – Castoffs
An atypical episode that focuses on minutiae.  When the writers can't find anything useful to do with Jason's character he is written out off-screen.  In another off-screen moment a throwaway line tells us that Bob has won Manager of the Year.
S51e08 – Forever
Tensions mount as it seems that the Mets may trade David.  When they sign him, R.A. lets it be known he would also like to stay.
S51e09 – I'm Telling You Why
Trouble ensues when the Mets invite R.A. and reporters to the same holiday party.  In the final scene Fred gives Sandy a knowing nod.
S51e10 – Auld Lang Syne
R.A. is written out of the show and sent off to Toronto in a shockingly dark ending to the season.
….
S50e01 – Destroyer of Teams
New series regular Terry (Terry Collins) is introduced as the new team manager and Sandy Alderson joins the cast as a no-nonsense GM.  Fred deals with the shocking news from the Season 49 finale.
S50e02 – Outcasts
Series regulars Oliver and Luis depart as Sandy consolidates power.  Murph is told he will be the second baseman.  Jose wonders if he will be traded.
S50e03 – U.S.A.
In one of the series' weirdest moments, Osama Bin Laden is killed while Murph bats.  Pelf struggles with his role as team ace.
S50e04 – Hedge Bets
David Einhorn plays a white knight who will save Fred from financial ruin.  The Mets decide to hold on to Jose.  Ike is injured and Murph moves back to first base.
S50e05 – Punt
Series regular Carlos is written out in the mid-season finale.  Meanwhile, Jose continues to hit.
S50e06 – One Step Forward Two Steps Back
With free-agency on the horizon, David struggles to find his form.  R.A. just can't get a break, and Murph suffers another season ending injury.  Meanwhile, Jose sails along.
S50e07 – All Bets Are Off
Tensions flare between Einhorn and Fred.  Fred decides not to sell any of the team to Einhorn.  Jose continues to lead the league in hitting.
S50e08 – Ten Years Later
In a poignant episode the series reflects on 9/11
S50e09 – Walk-off
Jose wins the batting title but leaves the game early.
S50e10 – 12:01
A minute after midnight Jose announces he is leaving for Miami as the writers hand in another depressing season finale.
…
S49e01 – Bay Watch
Jason (Jason Bay) joins the cast as a series regular.  In a wonderfully awkward scene the Mets hand him a Rangers hockey jersey at the press conference.
The character of Jason was intended to be a co-starring lead along with David, but the writers never figured out what to do with the character, finally just writing him out in Season 51.
S49e02 – Cuts
Jose has a mysterious illness and could miss time. Murph hears whispers that he might lose his first-base job to a rookie.  In what was supposed to be a one-time appearance, R.A. makes his series debut in an understated role as the first man cut.
The writers are so impressed with R.A.'s screen presence that they create a recurring role for him.
S49e03 – I like Ike
Pelf starts April 4-0, but Murph gets injured and is out for the year.   Ike Davis and R.A. Dickey join the cast as regulars.
S49e04 – Halfway Home
The team is playing well, only 1.5 games out of first place, and everything seems fine in Queens as the team heads to the All Star Break.  Long time viewers wait for the writers to drop a plot twist but it never appears.
S49e05 – Head Games
Out West the team just can't win a game and Jason suffers a concussion.
S49e06 – Flashback Episode
The creators wrap old clips from mid-1980's episodes with new wraps from former series regulars Dwight, Darryl, Davey and Frank.
S49e07  – Man Up And Play Better
In a shocking episode, the writers have Mets deal with domestic violence when Francisco and his father-in-law fight in the clubhouse.  Fred wants Francisco's contract voided.
S49e08 – Ollie
In one of the series' funniest episodes Jerry refuses to use Ollie no matter what the situation.  We follow Ollie's exploits in the bullpen eating sunflower seeds.
S49e09 – Meltdown
Not one of the series' best written episodes – this one is pretty predictable as the writers work toward Jerry's eventual series departure.  Jerry finally lets Ollie pitch in extra innings of the season's final game. Ollie promptly hits a batter then walks three guys….in a 14th inning loss.
S49e10 – Blowing Up
Omar and Jerry make their final series appearances as Fred gets word that the team is being sued for $300M.  Former series regular Wally Backman guest-stars as someone who would like to manage the team.