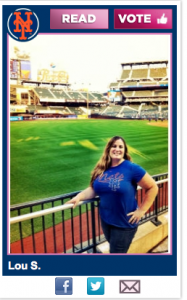 As Shannon says all the time, we try to use this blog to help people and not only complain about "wrongs in our eyes" that we see the Mets do.(Yeah we also give the Mets credit when they do something right too.)
I met Lisa last year through hanging out with Darren of the 7 Line. She is one of the many die hard Mets fans that I have gotten to meet that way. We never really said more then Hello, man that game sucked, and see you at the next game to each other in person but since last season she has become one of my twitter buddies. Lisa tweeted to her friends if they wouldn't mind voting to get her to  be an honorary ball girl for the Mets through the MLB's contest to help battle Cancer. Now I figured why should I just stop at voting myself. I don't ask a lot out of our readers, but I would like for you guys to do me a favor and read this. It is the story that Lisa's husband wrote for her entry into the contest.
Lou S.
My wife, Lisa, was diagnosed with breast cancer last year at the age of 36. This is considered young for breast cancer and so her doctors have pursued the most aggressive treatments possible. Fighting the cancer has disrupted her life at home, work, and even her chance to have children, but it has not dampened her spirit. Lisa has greeted each challenge with strength and determination and she has tirelessly advocated for breast cancer along the way. She discovered her own tumor through self-examination and she advised friends, family and, as an ultrasound technologist, her patients to perform their own routine self exams. She offers advice and comfort to others diagnosed with breast cancer through the Breast Cancer Social Media efforts on Facebook, Twitter and message boards. She never loses her fighting spirit.

Throughout her treatment, Lisa has remained a diehard loyal Mets fan. We went to Port St Lucie for Mets Spring Training as it was her wish to see them play before she started chemotherapy. As opening day approaches, she plans on attending as many games as she can, even on days when she's receiving treatment, as her love of the Mets goes as far as anything else at keeping her happy and her spirits high.

Lisa would be a wonderful representative of the Going to Bat Against Breast Cancer program to show both that breast cancer affects all women, regardless of age, and that it can be fought effectively thanks to awareness efforts like this.
Read it? Moved you? GOOD, now go vote for Lisa. Heres is the link to vote- Vote Here. The last time I checked Lisa's entry was on page 11 under Lou S. Vote for her, she is good people. If you don't vote for her I am sending @lagranderusty to your house to perform a live reading of "Thoughts?!?!?" by Rusty Jr. The contest I think runs through 4/21….VOTE.