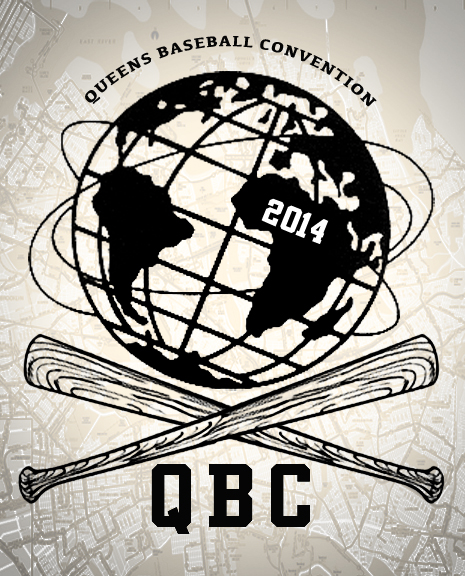 FOR IMMEDIATE RELEASE
July 18. 2013
Hey gang, Shannon here and I'm pretty excited about today's announcement.  Darren from The 7 Line and I are going to be working together on an event called the Queens Baseball Convention which will take place in January 2014.
Today's announcement is to get the ball rolling and to involve you.  We've had our discussions and we have our ideas.  We want to make this a really cool event for all the fans.  So we're taking this public while we still figure out the details.   The goal for today is to generate interest, buzz and discussion.  You tell us what this event should be and we aim to do our best to create a really fun event.
WHAT IS THE 2014 QUEENS BASEBALL CONVENTION?
Imagine your favorite parts of a Fan Fest, Comic Con, a baseball card show and a carnival all rolled into one.
We hope to have a mix of fun, games, appearances, memorabilia, merchandise, panels, batting cages, baseball cards, food, trivia, maybe even mascots.  Our goal is to make it an enjoyable day for fans, and one to which you can bring the kids and bring the wife.
We're hoping the name says it all.  A convention of baseball fans in Queens.
WHEN WILL QBC14 TAKE PLACE?
We have middle of January targeted.  We are considering Saturday January 18th to be our first choice so save the date but don't throw pies at us if the date changes.
WHERE WILL QBC14 TAKE PLACE?
In Queens.  We are negotiating with venues to make sure we can find a place than can provide a home for all our dreams.  We also want the place to be easy for fans to get to.
HOW MUCH WILL A TICKET FOR QBC14 COST?
We are working on that now.  It can't be a free event as we need to rent a space and cover other expenses.  And in the spirit of transparency, it would be nice to be compensated for working on the event for six months.
WHAT SPECIFIC EVENTS WILL I SEE AT QBC14?
We're working that out now.  This is a chicken or the egg sort of problem.  We've had our internal discussions, and now we turn to you for ideas.  We want this to be for the fans.  We want this to be fun.  We want this to be awesome.  We want this to become an annual winter gathering.  If you'd like to make suggestions you can email [email protected] or Facebook us.
We've talked about "panels" (think Hofstra or Comic-Con), trivia games, autograph signings, batting cages, an awards show, a uniforms display, mascots, and plenty of other ideas.
CAN I HELP ORGANIZE QBC14?
Email [email protected]
I SELL BASEBALL CARDS/MERCH/WHATEVER.  CAN I GET TABLE SPACE AT THE EVENT?
Yep.  Email [email protected]
I WOULD LIKE TO PRESENT A PANEL.  CAN I?
Email [email protected]
IS MY FAVORITE PLAYER GOING TO BE THERE?
I don't know who your favorite player is but it's a little too early to announce any sort of guest list
I LOVE THE LOGO.  CAN I GET THAT ON A T-SHIRT?
That question was actually from me Darren.
CAN I FOLLOW QBC14 ON FACEBOOK AND TWITTER?
Yep!  Facebook.com/QueensBaseballConvention and Twitter.com/QBC14 aka @qbc14
HOW CAN I HELP?
Get the word out.  Facebook Like.  Facebook Share.  Retweet.  Follow @qbc14
WHO ELSE IS WORKING ON THIS?
We've spoken with some folks you know.  We'll give you their details down the road.  @mediagoon came up with the name and he'll be helping out for sure.
That's it for now gang.  I hope you're excited as I am.
Shannon
.