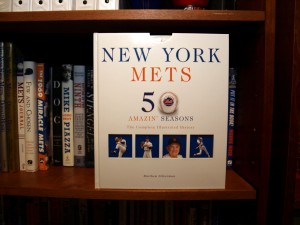 Yes, we here at MetsPolice have a lot of jerseys … and bobbleheads … and caps … and baseball cards … and did I mention jerseys?
But we aren't just superficial.  We also own more substantive things – like books. (Ones with pictures are very popular).  With the holiday season approaching, we thought now would be a great time to showcase some books we own about the Mets (or by Mets, or having some association with the Mets).
So, in no particular order:
New York Mets: The Complete Illustrated History

– the title says it all.  A must own for any Mets fan.
If you click on the link it will take you to the Amazon page for the book.