Congratulations to @datwohig an @mediagoon for their fantastic job with the 2018 Queens Baseball Convention.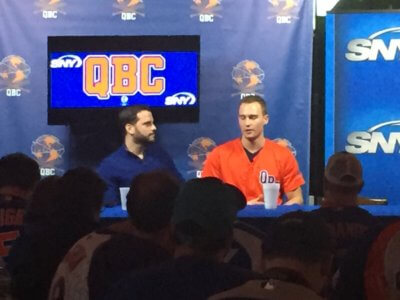 SLACKISH REACTION:  Brandon Nimmo was a revelation.  You know how I don't like certain types of players – the kinds that have look at me personas and drive around in sports cars and hang with supermodels and maybe don't have the back of the baseball card to roll like they are Joe Namath – yeah Nimmo is the opposite of that.
He was at QBC yesterday and I can't express strongly enough how much he wowed the crowd.  I don't have a Man Crush on him, I have a Father In Law crush on him – this is the kind of guy that if he married one of your daughters you'd be like yeah.  (He is married and clearly loves his wife, she was there.)
Many people left the room saying that while earlier in the week they were like WTF why didn't the Mets trade this guy, now they are huge Nimmo fans.  Me too.  I have been looking for someone to replace the hole in my heart left when Murph left town, but now I have a new favorite Met and his is Brandon Nimmo. I'll share the audio when @mediagoon wakes up from a well deserved nap.
Also great to see was Todd Hundley.   As we've discussed on here Todd was a huge star in Queens and has gotten lost between The Dynasty and Piazza.  Interesting to hear Todd say that Jeff Torborg was too nice and that people took advantage.  Todd also had zero problem with the Mets going after Piazza because Todd knew he himself couldn't play.
I didn't get too much of Chris Flexen but he was there as well and apparently is a good dude.
At the Meet the Mets Executives Panel, marketing exec Mark Fine (good dude as well)  said giveaways are now 25,000 not 15,000, the TBA t-shirt will be designed by Marvel, and there will be a Mr. Met as Han Solo in the Falcon cockpit bobblehead day for Star Wars Night.   We also learned that Will that runs @mets reads all our tweets.  A fan (not me!) asked about the dopey "That Feeling When…."  posts and I don't think I totally got the answer but something something different demographics.
I'm sure I will have more to say as the day and week goes on, and I'll share video and audio as it comes loose.
I saw the not-boycotters people and literally hugged it out so we can be friends.  It was that kind of feel good day.
I'll have a podcast for you maybe today.  Jason and I sat in the corner like nerds for 40 minutes and wound up talking a lot of Star Wars.
Finally, as I wasn't involved with this one at all it was kind of fun to just attend it.  I enjoyed watching someone else host "my" panel (I usually do Mets Execs). I described it to my wife as watching a band I used to be in.  If you watch the 4 hour Tom Petty doc on Netflix (highly recommended) there's a point where bassist Ron Blair talks about seeing the Heartbreakers when he was an ex-member of the band and that it was cool.  I felt the same way.  No longing, no jealousy, no feeling left out, just happy for my one-time bandmates.  Great show guys.
My QBC live blog from yesterday can catch you up on what you missed.
DID THE METS GET ANY NEW PLAYERS:  No.
I'm a day late on this but I heard people at QBC talking about the David Wright article in USA Today…
"It really hurts to say this, but I obviously can't be relied on to go out there and do what I've done throughout my career," Wright said Friday, per MLB.com. "That is a tough thing to say."