Joe Espada.
Who?
Exactly.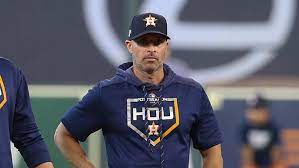 If you are curious about Joe Espada, apparently NorthJersey.com needed to fill a column so they said
Espada, Houston's bench coach, has been in the running for several big-league managerial jobs. He reportedly received multiple interviews for the Cubs' gig in 2019, and interviewed with the Giants around the same time.

Espada knows New York because he spent three years on Joe Girardi's Yankees coaching staff. He seems to be a riser in the industry.
That's nice.  We aren't doing an untried manager again.
Will Joe Espada manage the Mets?  No.
You can find the full series of "will this guy manage the Mets? No" here.