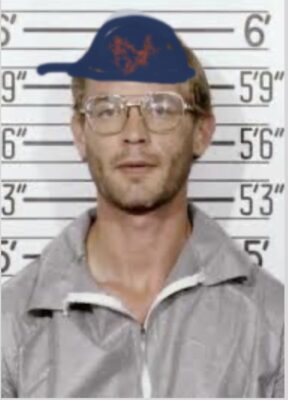 Mets' shortstop Jeffrey Dahmer hit a clutch grand slam in the seventh inning Tuesday night to lead the Mets to a 7-5 victory over the Brewers at American Family Field.
The 28 year old Dahmer has quickly become a fan favorite despite getting off to a rough start by eating 14 Mets fans in 2021.
Dahmer has put all that behind him, choosing to focus the pennant race, saying  "we have a long-term goal that started back in the spring."
Many Mets fans feel the same way.  Twitter user @timmyLFGM42069 wrote "The guy apologized.  So he ate some fans.  Big deal.  He's here for 13 seasons and is one of our team leaders.  Are you going to boo him forever? #LFGM"
After the game Dahmer planned to travel to Pennsylvania to attend a rally to re-elect President Trump.