The Mets must have been up early this morning, met David Stearns for the first time, let him know that they don't have a field manager, and offered him the job of President of Baseball Operations before the coffee was cold.
The Mets, I guess, want us all to be excited about this, but HOW MANY TIMES are we going to do the NEW CULTURE press conference guys?
Also note the "Steve and Alex" fanny kissing that I increasingly notice creeping into all Mets communications.  I guess Steve's wife is now involved in decisions…otherwise, why thank her?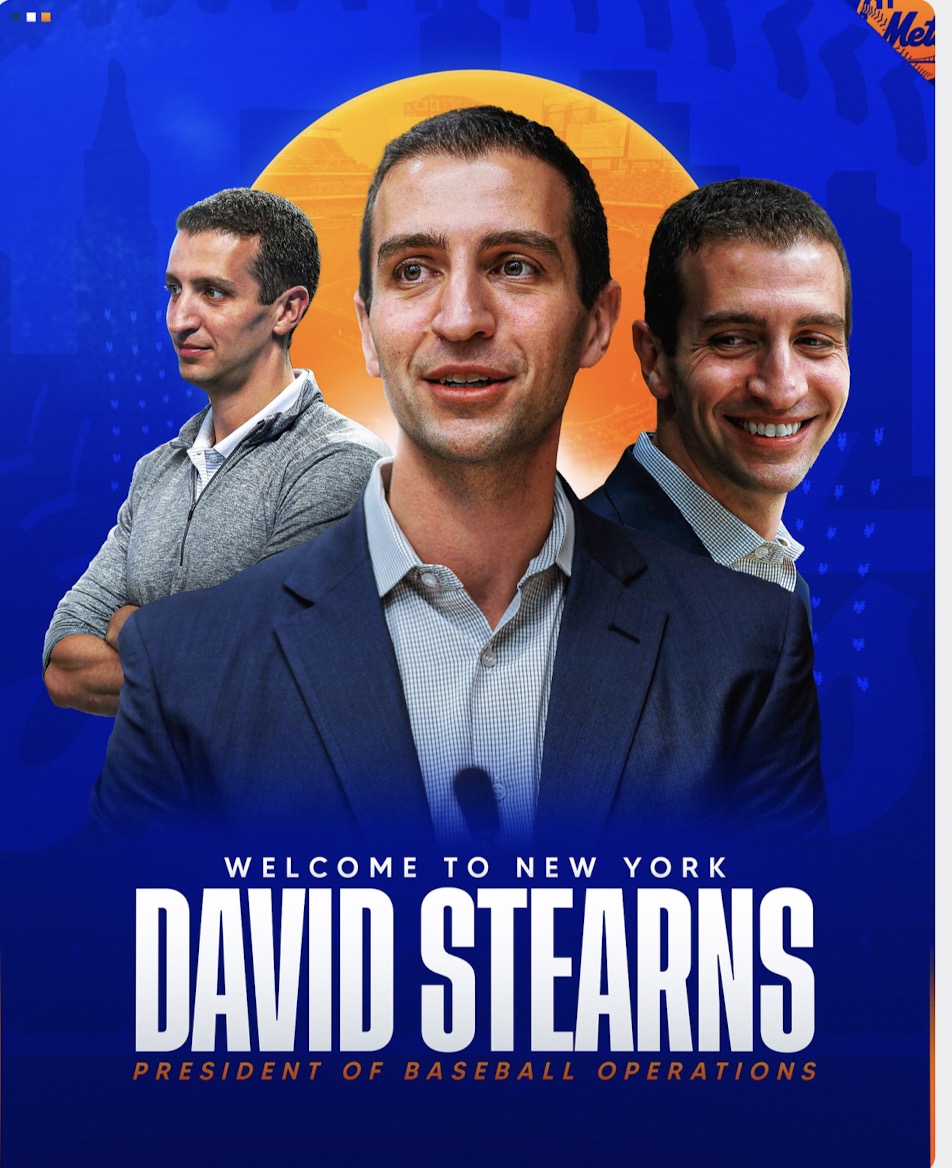 METS NAME DAVID STEARNS PRESIDENT OF BASEBALL OPERATIONS
FLUSHING, N.Y., October 2, 2023 – The New York Mets announced today David Stearns has been appointed President of Baseball Operations.
Stearns, who becomes the team's first President, Baseball Operations in franchise history, will oversee the entire baseball operations department starting today. A native New Yorker, Stearns grew up rooting for the Mets and served as a baseball operations intern for the team in 2008.
"I'm incredibly excited to welcome David back to Queens," Mets Owner, Chairman and CEO Steve Cohen said. "I said numerous times I wanted to find the right person for this position, and I believe David is exactly that – an experienced executive with a wide range of skillsets that will help push our baseball operations forward. He understands our fans' passion and knows what it takes to build a sustainable, winning team."
Stearns spent eight years with the Milwaukee Brewers, including 2016-2022 leading Milwaukee's baseball operations, before spending this season as an advisor to owner Mark Attanasio and GM Matt Arnold. Under Stearns' leadership the Brewers earned four straight postseason berths (2018-2021), including two NL Central titles (2018 and 2021).
"There is not an opportunity in baseball more meaningful to me than the chance to help lead this franchise.  I grew up, in large part, at Shea. I lived and breathed Mets baseball and I'm thrilled I get to do that again.  I'd like to thank Steve and Alex for giving me this opportunity. Their dedication to this organization and community was evident throughout our discussions, and I look forward to working with them towards achieving our shared vision of building a consistent championship contender."
Stearns joined the Brewers following three seasons (2013-2015) as an assistant general manager with the Houston Astros. He was part of the front office that guided the Astros from 51 wins in 2013 to 86 victories in 2015 and a postseason appearance.
During the 2012 campaign, Stearns worked as the director of baseball operation with Cleveland, where he focused on contract negotiations, salary analysis, team strategy and roster management.
From 2008-2011, he worked for Major League Baseball in the Office of the Commissioner as the manager of labor relations, where he assisted in the salary arbitration process, handled uniform player contracts and was a member of MLB's negotiating team for the Collective Bargaining Agreement.
Prior to joining the Mets in 2008, Stearns served as an intern in baseball operations with the Pittsburgh Pirates during the summers of 2005 and 2006.