The Mets, for some reason, have determined the best time to release good news is after 6pm on a Friday.  I don't get it.
I also don't get any images for posts, because they don't send any.   Anyway..fortunately we have AI now.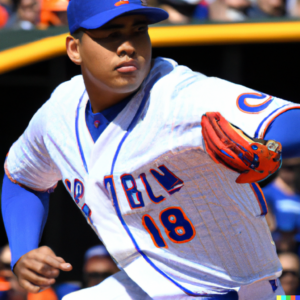 METS SIGN ALL-STAR LHP JOSÉ QUINTANA 
FLUSHING, N.Y., December 9, 2022 – The New York Mets today announced that the club has signed All-Star left-handed pitcher José Quintana (keen-TAH-nuh) to a two-year contract.  
Quintana, 33, posted a career-best 2.93 ERA (54 ER/165.2 IP) across 32 starts last season between the Pittsburgh Pirates and the St. Louis Cardinals. His 0.43 HR/9 IP rate was the lowest mark among qualified major league starters last season. He did not allow a home run in his final 61.2 innings, the longest active streak in the majors. Over his last 14 starts in 2022, the southpaw went 4-2 with a 1.67 ERA (14 ER/75.1 IP) and allowed two earned runs or fewer in each of those outings. He allowed more than four earned runs in only one of his 32 starts last season. 
"Over the last decade, José has been one of the most dependable starting pitchers in the majors," Mets General Manager Billy Eppler said. "Adding another left-handed option to our rotation, especially one with his durability, experience, and moxie, will give our starting staff quality depth." 
Quintana is the only pitcher in the major leagues who has made at least 30 starts in eight different seasons since 2013. Since breaking into the majors in 2012, Quintana ranks in the top 10 among left-handed pitchers in starts (third, 289), innings pitched (fourth, 1,723.2), strikeouts (sixth, 1,532) and wins (t-10th, 89). 
Quintana, Max Scherzer and Justin Verlander each started Game 1 of their respective team's playoff run last season. According to Elias, the 2023 Mets will be the first team to have three pitchers who each started his team's first game of a Postseason run the previous season.  
The 11-year major league veteran was named an American League All-Star and finished 10th in the AL Cy Young Award voting in 2016 after going 13-12 with a 3.20 ERA (74 ER/208.0 IP) with 181 strikeouts and a 1.16 WHIP.  
The Arjona, Colombia native owns a career record of 89-87 with a 3.75 ERA (718 ER/1,723.2 IP) in 315 career games (289 starts) with the White Sox (2012–2017), Cubs (2017-2020), Angels (2021), Giants (2021), Pirates (2022) and Cardinals (2022). He became the first Colombian-born pitcher to reach 1,000.0 career innings in the majors. Quintana would be the second Columbian-born player to appear for the Mets in the majors, joining Dilson Herrera.