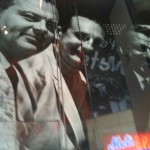 When you enter the museum take a hard right and walk to the corner and you'll find this neato interactive exhibit featuring the Mets announcers.
Some have criticized this exhibit that the audio presentations are hard to hear…I am confident the Mets will make a modification.
If you are reading this on the main page, click "continue reading" to see the pictures.
Clicking on a picture will make it much bigger so you can actually see it.
Everyone else will see them below.