I'm not big into the world of collectables, and I have no motivation whatsoever for posting this other than I find it interesting and thought you might too.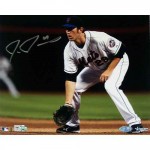 Subway Special… Yankees vs. Mets Can Mean Free Steiner Sports Memorabilia For Fans
NEW YORK, May 17, 2010 – The highly-anticipated "Subway Series" between the Yankees and Mets has produced plenty of exciting moments – and some timely home runs. When the teams meet this Saturday at Citi Field, blasts by both teams will mean more than just runs on the scoreboard. For fans, it can also mean some free Steiner Sports memorabilia.
From now through Saturday at 7 p.m. ET (just before the 7:10 p.m. first pitch), fans who purchase select Steiner Sports Yankees or Mets player-specific memorabilia will receive their item free of charge should that particular player hit a home run during Saturday's game. For "Bronx Bombers" and "Amazin's" zealots, it will be a new-fangled version of the "Home Run Derby" to send the New York rivalry to a new zenith this weekend thanks to Steiner, which is hitting one out of the park for collectors, "See Ya," "It's Outta Here," and "Kiss It Good Bye!"
"We received great response from a similar program we ran with the Yankees-Red Sox series in Boston earlier this month, so we decided to extend it to a 'Subway Series' game as well," says Brandon Steiner, CEO of Steiner Sports. "It adds another layer of excitement for fans who look forward to games between these city rivals every year."
Fans can log onto www.SteinerSports.com or call 1-800-759-SCORE to purchase their player-specific item. Should that particular player hit a home run on Saturday, the fan will not be charged for their ordered item, and will receive it free of charge (standard shipping rates will apply). If that player fails to hit a home run, all orders will be treated as usual and will be subject to normal charges.
"It's really simple," explains Steiner. "For example, purchase an Ike Davis hand-signed baseball from Steiner Sports prior to the game; if Ike hits a home run, you won't be charged for that baseball. The same would apply for all players on both teams this Saturday."
Fans are encouraged to place their orders under the following guidelines: Orders must be placed prior to first pitch on Saturday, May 22, 2010 (approximately 7:10 p.m. ET). All sales are final, even if a particular player doesn't appear in the game. The standard 30-day return policy does not apply. Game used or Yankee Stadium demolition items do not apply. This promotion cannot be combined with any other offer and is only valid on new orders placed between Monday, May 17, at 10 a.m. and Saturday, May 22, at 7 p.m. Should multiple players appear on a single piece, all players must hit a home run to qualify. Limit of three items per customer.