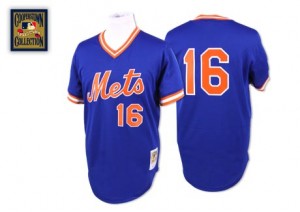 Well, I'm confident the Mets won't blow 10-0, Keith is talking about leaving and I'm kinda sleepy…so I'm heading off to Howie & The Pillow and leave you with this:
Mitchell & Ness have new "Authentic Mesh Batting Practice Jerseys" for $80.
As you know, blue jerseys would never sell…only black does….so there's no reason to click this link and get yourself a 16, 17, 18 or 1.
Speaking of blue, my favorite Met Jon Niese snapped the Horrible Streak Of Wearing Black at 3. Â  Thank you Jon.
Those of you from uptown might be interested in the Mitchell & Ness NYY #23 in honor of the bench coach of the Dodgers. Â (By the way I am looking forward to "the media" writing generic Torre articles on Friday when the NYY's play the Formerly Brooklyns.)
(Hey Media Goon, if the Mets blow 10-0 delete this post so they don't make fun of me.)