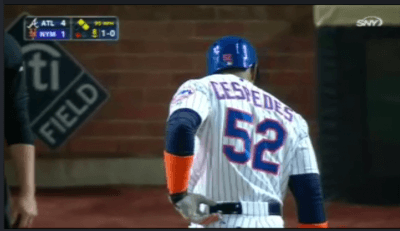 The International Blog Accords of 2009 mandate that all Mets related blogs post the exact same information. Mets Police hereby officially complies.  Yes this is cool, but as a blog snob I think we all suck and are unoriginal
M­­­ETS SIGN OUTFIELDER YOENIS CESPEDES

FLUSHING, N.Y., January 26, 2016 – The New York Mets today announced the club has signed outfielder Yoenis Cespedes to a three-year contract.

Cespedes, 30, established career-highs in doubles (42), home runs (35) and RBI (105), slugging (.542) and OPS (.870) last year. He was acquired by the Mets on July 31 from Detroit and hit 14 doubles, 17 home runs with 44 RBI and scored 39 runs in 57 games with New York. He drove in a career-high 23 RBI for a calendar month in August and had nine home runs and 21 RBI in September.

"Yoenis was a big contributor to our success last year," said Mets General Manager Sandy Alderson. "Ownership's on-going commitment allowed us to bring back the right player at the right time to put us in a position to defend our NL East crown."

Cespedes, who became the 11th Cuban-born player to play for the Mets, was third in the majors with 83 extra-bases, was tied for sixth in doubles, ninth in RBI and led the majors with a .623 road slugging percentage in 2015.
"I loved my experience with the Mets last season," said Cespedes. "In a short period of time, my teammates and the fans made New York feel like home, and I truly felt embraced by the entire organization. As I entered free agency, I couldn't deny the pull to come back and finish what we had started last year. I am excited to finally announce that next season I am coming back to join the New York Mets once again."
Cespedes hit two home runs and drove in four runs in the 2015 NLDS vs. Los Angeles and added three RBI in four games vs. the Cubs in the NLCS. Overall, he has hit .277 (26-94) with three home runs and 14 RBI in 24 career postseason games.

"It's great to have his big bat back in the middle of the line-up," said Manager Terry Collins. "He really lengthens the line-up and makes everyone around him better. He was a great teammate and I'm really glad he decided to come back."

The 5-10, 210-pounder earned an American League Gold Glove last year and led the AL in outfield assists (16) in 2014. Since his debut in 2012, Cespedes has 48 outfield assists, the most in the majors.

Cespedes was an All-Star in 2014, after scoring 89 runs and hitting 36 doubles, six triples, 22 home runs and 100 RBI in 152 games between Oakland and Boston.

In 2013, Cespedes won the Home Run Derby at Citi Field as part of the All-Star festivities with 32 total home runs. He also won the Home Run Derby in 2014 and joined Ken Griffey Jr. as the only players in major league history to win back-to-back Home Run Derby titles.

Cespedes finished second in the AL Rookie of the Year voting in 2012 with Oakland after he ranked second in runs (70), hits (142), doubles (25), home runs (23), extra-base hits (53) and multi-hit games (40) among AL rookies.

Cespedes has 367 RBI since 2012, tied for the 10th-most in the majors and his 106 home runs during that span is tied for the 14th-most.

He has hit .271 (609-2249) with 124 doubles, 21 triples, 106 home runs, 367 RBI, 334 runs scored and a .486 slugging percentage and a .805 OPS in 575 major league games over four major league seasons with the Mets, Tigers, Red Sox and Athletics.