I just received this e-mail from the Mets.
The Mets who are embracing their own history these days started up the Mets Alumni Association last week.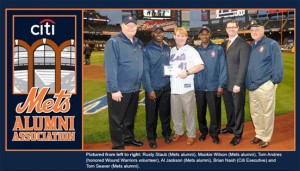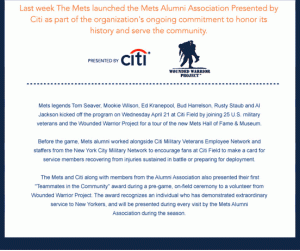 Click thumbnails to see larger size.
Its nice to see Rusty, Mookie, Bud (I have an autographed ball from him), Ed Kranepool, and Al Jackson at the ballpark.
The Alumni Association, The Mets, and Citi gave the first award for "Teammates in the Community". They gave this to a volunteer of the Wounded Warrior Project.
In my opinion good job by The Mets in honoring the community and their history/former players.
I'll add this part just for Shannon. I notice the person that was given the award is wearing a Cooperston Collection Seaver Jersey. No black drop shadow there..