Here's the fanbrick which says Sid Fernandez earned the win in Game 7.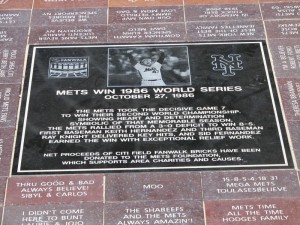 And here is the Mets pitching boxscore of Game 7.
and a second source just to make sure we're not all insane.
Hopefully the Mets can fix this one lest we misinform our children.
Since there's a lot of new visitors today (thank you Mets Blog) I am going to shamelessly encourage you to sign up for the free daily Mets Police email. Also visit the main page for more pictures of the modifications to Citi Field and here's some more pictures of other historical bricks.
UPDATE: this post has been drawing a lot of attention. Â  The Mets have since removed the brick and a correct version will replace it. Â  Great job by the Mets on fixing this one quickly. Â Read more in the Times.